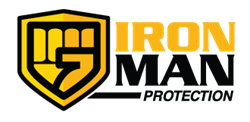 We needed a website that speaks to our potential customers in an informative but digestible way and our new site accomplishes this flawlessly.
Houston, Texas (PRWEB) October 30, 2013
Adhere Creative launches a powerful new security brand in the Houston market. The launch consists of a new identity and a new website for Iron Man Protection, a Houston security guard services company.
Built on the latest HubSpot Content Optimization System, the new site is entirely integrated with a blog, social media, email and landing pages. A mobile friendly interface charged with useful information about Houston security services creates a superior user experience.  
"Providing the Houston community with dependable security guard services is extremely important to us," said Dennis Walker, retired long time Harris County constable and co-owner of Iron Man Protection. "We needed a brand and website that speaks to our potential customers in an informative but digestible way and our new identity and website accomplishes this flawlessly, thanks to Adhere Creative."
Adhere Creative is a Houston inbound marketing agency that specializes in crafting brand identities and comprehensive marketing strategies that produce measurable returns.
"Iron Man Protection needed a website that not only showcases their experience, but also projected an image that was of equal quality to their service," said Nathan Yerian, Director of Strategy at Adhere Creative. "We built their website on the new HubSpot COS because it offers a unique opportunity for them to connect with their target market in a value based way. This will allow the Iron Man Protection team to build relationships and a meaningful Internet presence."
"We are extremely excited to share our new website with Houston companies," explained Sergeant Brian Jordan, Crime Prevention Specialist and co-owner of Iron Man Protection. "Our new website offers an abundance of information for those looking to implement a security solution, or enhance existing security measures."
The site's unique design and comprehensive content creates an informative user-friendly experience for visitors. It allows visitors to request a free security risk assessment, or to easily request pricing. It also features a blog page that will provide useful security tips for Houstonians.
"We wanted to make sure that Iron Man Protection's website design reflected their company character," said Matt Ramirez, Web Designer for Adhere Creative. "Upon first glance, visitors will immediately identify with a professional appearance that is clear and to the point."
Adhere Creative is a Houston based inbound marketing agency that develops comprehensive marketing solutions. Their approach ensures that each element of the marketing mix provides a function determined by the clients business goals.
For more information on Adhere Creative, visit: http://www.adherecreative.com
Iron Man Protection is a Houston based security guard and security consulting firm. Pulling from over 40 years of law enforcement experience, Iron Man's services are effective, professional and client focused. Some of Iron Man Protection's services include: on-site security guards, security patrols, armed security and security consulting.
For more information about Iron Man Protection, visit http://www.ironmanprotection.com.