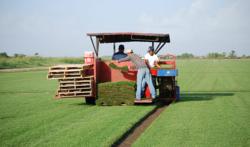 HOUSTON, TEXAS (PRWEB) March 27, 2013
The Grass Outlet has launched a turfgrass calculator, the Grasstimator, on its website to help customers determine how much sod grass they'll need to cover their lawn.
The sod grass calculator asks users to specify the shape of their lawn from six options: square, triangle, circle, parallelogram, trapezoid and combination. Users are then able to enter the dimensions of their yard, breaking down each side of the lawn to give as exact a calculation as possible.
Once the user has specified his or her yard shape and its dimensions, the Grasstimator calculates the yard's square footage and number of pallets needed. One pallet of grass covers 450 square feet of lawn area.
After giving the requested information to users, the Houston sod grass company's calculator gives users the option to choose from ten varieties of grass in the St. Augustine, Bermuda, Zoysia or Buffalo families. During this step, visitors can read about each type of grass to determine whether it meets their needs.
Once the user has chosen a grass variety, the sod grass calculator will give the user a price quote on the requested amount and variety. Users can then use the company's online checkout and have their sod grass delivered to their lawn on a date of their choosing.
About The Grass Outlet
The Grass Outlet is a direct-from-farm sod grass store headquartered in Austin, Texas. The Grass Outlet provides fresh, high-quality grass to homes and businesses in Austin, Dallas, Houston and San Antonio direct from its farms along the Texas Gulf Coast. The store is able to ensure that customers receive the freshest grass available by harvesting grass from the farm on an order basis only. Customers can choose from 10 varieties of turfgrass, including two St. Augustine varieties, Density Buffalo, three varieties of Bermuda grass and four types of Zoysia.
###