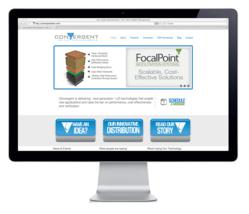 The branding and website Adhere developed for us will help us to penetrate our market and gives us an image that demonstrates the quality of the products we offer.
HOUSTON, TEXAS (PRWEB) December 27, 2011
Founded to address the urgent need for innovative stormwater management solutions, Convergent Water Technologies delivers cost-effective systems and services designed to overcome water management challenges. To facilitate their mission, they have embarked on a branding initiative that includes a new logo, business cards, stationary, brochures, trade show displays and website design.
For professional assistance with their marketing efforts, Convergent partnered with the team at Adhere Creative, a Houston web design company that specializes in inbound marketing and brand development. The marketing specialists at Adhere Creative put together a branding package focused on showcasing the value and quality of the company's products and services.
Convergent Water Technologies is a new entity in the stormwater technology industry, committed to an innovation-based approach to managing stormwater. By utilizing best practices and an approach that is solutions-oriented, Convergent aims to help shape a future defined by sustainable, cost-effective water management.
As part of this mission to improve both water quality and quantity, Bob Adair, President of Convergent Water Technologies, believes that the new image created for his company by Houston web design company Adhere Creative will have a positive impact: "The branding and website Adhere developed for us will help us to penetrate our market and gives us an image that demonstrates the quality of the products we offer. We couldn't have asked for anything more."
With the help of their branding initiative, Convergent also aims to attract the brightest minds to the challenge of stormwater management, with the goal of solving critical water-related problems. In addition to developing new solutions, Convergent will also be initiating a new distribution model for the industry. As part of its new branding message, Convergent is highlighting their new VAR (Value Added Reseller) model. They are the first to introduce this model to the stormwater technology industry.
Setting up strategic VARs around the country is one of many ways that Convergent Water Technologies hopes to enable forward-thinking, cost-effective compliance with stormwater regulations and management. And, with a new website design and a new look for their marketing materials, the team at Convergent looks forward to changing the face of water management. David Batts, Director at Convergent, states, "Working with the Adhere Creative was a great experience. Their team of designers and marketing consultants were able to help us create a company and product branding format that promotes an image of innovation that will give us an edge in a market riddled with outdated technology."
Daniel Vacsi, Director of Business Development at Adhere Creative, was pleased to be asked to help an emerging technology company more effectively express its value to the global community: "We are proud to be a part of the team that will reshape an industry. They have a plan to make it happen; it just needed a face. We were glad to provide the face of their brand."
Adhere Creative, a Houston web design, branding, and inbound marketing agency, specializes in results-driven marketing initiatives for the Houston business community.
###