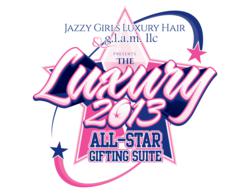 "We look forward to this event bringing more brand awareness of SheLuxe' Couture in the Southern states as well as connect on a personal level with our ever growing fan base," shared Co-Founder AjaLuxe.
Houston, TX (PRWEB) February 02, 2013
The Luxury 2013 Gifting Suite & Shopping Brunch hosted by rapper Trina on Saturday, February 16th and VH1 star Joseline Hernandez on Sunday, February 17th during the NBA All-Star weekend will spotlight top clothing, shoe and accessory designers, hair, makeup and nail stylists, master barbers and other luxury service providers from across the United States during the much-anticipated event taking place at the Jazzy Girls Beauty Boutique in Houston.
One of the premiere sponsors set to display their unique line during The Luxury 2013 Gifting Suite & Shopping Brunch is LavishLuxe, a Dallas-based fashion house and showroom, that will be gifting drop dead gorgeous form-fitting designs from their Liquid Collection - dresses that hug women's curves and highlights the natural physique. Boasting thousands of cult-like followers, LavishLuxe will also be gifting some of their edgy glam accessories, including statement piece necklaces, bracelets, rings and their new Dope Shade Collection Shades aka EyeGlam Wear. Trend-seekers will be able to purchase LavishLuxe items during the Shopping Brunch.
"We are very thrilled to be in partnership with this magnificent event as a sponsor," said a LavishLuxe spokeswoman. "This is an unparalleled opportunity to expose our brand of dresses and accessories to an extended audience of women of distinguished taste."
Another brand to be showcased at the glamorous event is She'Luxe, which was founded in 2009 on the premise of evolving women's fashions - artisans and stylists by trade; brand creators De'Andra and Aja found it increasingly difficult to buy items that appealed to people with a more discerning and unique style sense. Inspired by music, art, and their own personal style, each design is created with a range of feathers, leather, metals, and chain that can be worn when headed to a business meeting or a red-carpet event. She' Luxe's high fashion couture pieces have found their way to the runways of New York Fashion week, top magazine pages and on popular TV shows, Marrying the Game, Love and Hip Hop, Bad Girls Club and X Factor. She'Luxe will be gifting accessories from their best selling Luxury Auto, Caliber Couture and Glambitious lines.
"We look forward to this event bringing more brand awareness of SheLuxe' Couture in the Southern states as well as connect on a personal level with our ever growing fan base," shared Co-Founder AjaLuxe. The She'Luxe Look Book offers a glimpse into the eagerly anticipated exclusive brand to be offered during the 2 day event.
Event organizers g.l.a.m. LLC and Jazzy Girls Luxury Hair Collection's commitment to presenting a well rounded event for the ladies and the gents lead them to the include the celebrated cutting skill's of acclaimed California go-to guy; Vince the Barber, of the Capsule Barbershop. Lauded by an A-List clientele of top athletes and entertainers Vince will be center-stage in the Gifting Suite and Shopping Brunch. As a licensed barber, Vince has developed a proficient eye for styles that are both modern and unique. He specializes in services that include straight razor shaves, tapers, lineups and designs that are cutting edge and eye catching. With any service, the Toronto native works to ensure that his clients' needs are catered to.
The master stylist has established himself as an exclusive barber for celebrities such as, Chris Bosh, Metta World Peace, Dwight Howard, Drake, the NewBoyz, Diddy, Tyrese, Ginuwine, Tank, Miguel, The Jabbawockeez, just to name a few. He has worked on set for shows such as America's Best Dance Crew, America's Got Talent and The Jay Leno Show. His work can also be seen in magazines, commercials and trade shows "whether my client is a celebrity or not, I am known for being precise and consistent., boasts Vince the Barber. "With each visit, clients are not only given a professional experience but, a cut above the rest, I plan to bring the Capsule flavor to All-Star Weekend". Vince's blog shows off behind the scenes with celeb clientele.
Other vendors and sponsor include; B'Dazzling Designs, Charlee's Little Angels Daycare children's apparel, Craze Men's Magazine, Conceited, Inc., g.l.a.m. LLC, Grind Hard Endurance Drink, Jazzy Girls Luxury Hair Collection, Jewelry by Mikai, LLC, Kore Magazine, Lucretia's Body Oils & Sprays, On Demand Energy Drink, Shon Murdock Group Cigars, Bella Donna's Shoes and Trea Day Management & Publicity.
To schedule appointments for Celeb/VIP Gifting Suite on Saturday, February 16, 2013 or secure media credentials contact PR Director Trea Davenport at treadaypr (at) gmail (dot) com or call 678-327-8281. Tickets [$20] for The Luxury Shopping Brunch on Sunday, February 17, 2013 may be purchased at http://luxuryallstargiftingsuite.eventbrite.com/.
About LavishLuxe:
LavishLuxe is a fashion house and showroom, located in Dallas, TX with an online boutique at http://www.lavishluxe.net. The exclusive signature brand offers a variety of accessories and cutting edge designs at the forefront of trendsetting fashion. LavishLuxe offers custom ordered pieces at their Design Shop that is perfect for today's sophisticated woman. http://lavishluxe.net
About She'Luxe:
She'luxe Couture was formed in 2009. A majority of the hand-crafted line was created to boost confidence and demand attention. Inspired by music, art, and the personal style of co-founders De'Andra and Aja Luxe, each design is created with an eclectic variety of feathers, leather, metals, and chains that can be worn when headed to a business meeting or a red-carpet event. http://www.sheluxe.bigcartel.com/about
About Capsule Barbershop:
A popular LA barbershop where clients can get a flawless haircut for $20 and rub shoulders with A-List celebrities, industry insiders and NBA greats. Partners Vince and Jay-P and the professional Capsule staff have made the intimate location one of Hollywood's most respected go-to destinations for straight razor shaves, tapers, lineups and custom cuts. http://vincethebarber.wordpress.com/