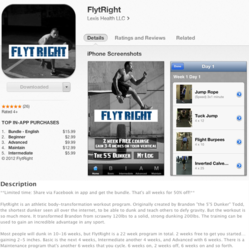 15,000+ New Members to TeamFlyt in Just 3 Months
(PRWEB) March 05, 2013
FlytRight has sold over 15,000 copies in a three-month span, and has been gaining momentum each month. FlytRight is in the top 200 grossing Health and Wellness Apps in the Apple iTunes App store. Positioned as the go-to app in training for vertical explosion, learning to jump higher, learning how to dunk, and body building for plyometric based sports like basketball, volleyball, and track and field.
Todd's personal website, http://www.brandontodd.tv, and online program has been teaching thousands of people his training techniques. Todd's athletic ability at only 5'5 is the reason so many fans took to his tutelage. "Who wants to learn from a 6'5 guy, I trust the 5'5 guy that can dunk to teach me!" a fan exclaimed.
An updated version of the app will be released in the next few months with guides, stretching exercises, logs, and additional content. An Android Version is also in the works for the Google Android Mobile market. Todd has released a new YouTube video outlining some of the mistakes users may make, as well as answering a few user concerns, questions such as: diet, when to increase the weight and reps, rest times, stretching, and also proper form and technique. You can view the video here.
Regarding Diet Todd states, "75-80 percent should be protein, which will help build muscle and speed-up recovery. The other 20 percent should be good carbs such as vegetables, legumes, fruits, and brown rice." Brandon's favorites are Chicken, fish, broccoli, sweat potatoes, black or pinto beans, and brown rice. Todd Continues, "Every two weeks, increase 5-10 percent of the workload/weight. This is called Force Progression. Rest time is 30-45 seconds to keep your heart rate up, which mimics game intense exertion. Hydration is a must. There will be a lot of sweating during these workouts. The loss of water in the body must be replenished." Todd closing the session by stating, "Listen to your body… If the body is sore, rest! Take a day or two and then go back to the workouts. Will you dunk in two weeks? No! Average athletes will gain the necessary strength to dunk in 8-16 weeks depending on skill level." The app is available in the app store for free, with additional paid content. Here is the download link.
The app as described focuses on modifying the full body with plyometric exercises, weight training, upper and lower body focus, and lean muscle growth. All of which is necessary to play sports at a professional level. Players like Michael Jordan, Vince Carter, Kobe Bryant, and Dominique Wilkins, weren't just great dunkers; they were great athletes. Todd states, "To improve your level of athleticism, you need three things: Fundamentals, a strong Foundation(body), and unwavering Determination!" Short dunkers like Spud Webb at 5'7, and three-time winner Nate Robinson at only 5'9, spent countless hours improving their bodies to achieve their incredible feats.
The app is no quick fix to dunking. With over 22 weeks of workouts in the full program, a significant amount of work is being expected by the user. The result is a better body for sports. For players between 5'8 and 6'4, the FlytRight program can make the difference between getting drafted to a great college program, to even the chance of playing in the NBA. Todd showcases a few of his spectacular dunks, and some of the workouts that transformed his frame from a scrawny 120lbs to 200lbs of pure muscle in this video. There are a lot of expectations placed on even taller players. 6'3-6'6 players are expected to be great rebounders, yet many of them do not have the lower body strength necessary to jump high and fight for the rebound. FlytRight can help.
FlytRight is a 22-week program in total, with four workouts each week. Two weeks are provided in the free download, which should help you gain two to five inches. Basic provides four additional weeks, Intermediate another four intense weeks, and advanced rounds out the main program with six extreme body building weeks. There is a maintenance program with six weeks that you cycle: six weeks on, two weeks off, six weeks on.
Brandon Todd, originally from Ohio, resides near the Washington D.C. metro area, and trains at local facilities and in-home. Todd has played with many greats that are now in the NBA like Lebron James, Kevin Martin, Omni Smith, Danny Gibson and many others. He was 1st team all-Ohio alongside Lebron James, playing basketball with him several times. He currently trains many athletes that play in the NBA, NFL, and in other professional sport arenas in the US, Europe, China, Japan and Australia. You can learn more on his website, or his Wikipedia page here: http://en.wikipedia.org/wiki/Brandon_Todd