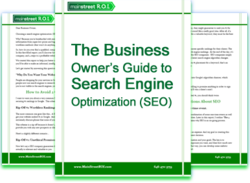 New York, NY (PRWEB) May 28, 2011
Today, Main Street ROI announced it has released a new free report -- "The Business Owner's Guide to Hiring a Search Engine Optimization (SEO) Company." The new 7-page downloadable PDF report is designed to help small business owners make an intelligent, informed decision about hiring an SEO firm.
Every day, more consumers are using search engines to find local small businesses. For example, according to Google, every month more than 10,000 people search for a New York moving company. If a New York moving company's website does not appear in the search results, they are missing out on potential customers.
As Pete Kennedy, managing partner of Main Street ROI, explains, "Most small business owners already know they want to show up in Google, but they don't understand all the intricacies of getting there and they don't have the time or desire to learn."
As a result, business owners often make the decision to outsource to an outside company. However, as Kennedy explains, there are a lot of pitfalls to avoid when hiring an SEO company.
Choosing a SEO company isn't easy, Kennedy says, because business owners are consistently bombarded by misleading advertising, confusing claims, and unreliable information. Worst of all, Kennedy explains, too many SEO companies employ high-pressure sales tactics designed to force business owners to make rash decisions against their self-interest.
"The Business Owner's Guide to Hiring a SEO Company" reveals:

How to Avoid 2 Common SEO Rip-Offs (pages 2-3)
3 Costly Misconceptions About SEO (pages 3-4)
4 Steps to a Profitable Website (pages 4-5)
8 Questions to Ask Before Hiring Any SEO Company (page 6)
Business owners can go to http://www.mainstreetroi.com to gain free instant access to the report.
As Kennedy explains, "Unlike many other SEO companies, we believe that the best client is an informed, educated client. That's why we created this report, and that's why we've dedicated our business to educating business owners about internet marketing."
About Main Street ROI
Main Street ROI is a small business SEO company that helps small "main street" businesses and professionals profit from online marketing. The company designs and implements search engine optimization (SEO), pay per click (PPC) advertising and email marketing campaigns for small businesses and professionals including attorneys, real estate companies, healthcare professionals, consultants and more.
###