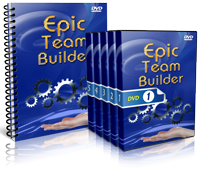 I can easily say that 75% of my own deals came from the relationships that I had created over the years
Los Angeles, CA (PRWEB) December 06, 2012
Matt Theriault, full-time real estate investor and host of one of the most popular real estate investing podcasts on iTunes, Epic Real Estate Investing, has been educating burgeoning investors on the realities of real estate investing for the last few years. One of real estate investing's best practices, and unfortunately for many it's a commonly overlooked one, is to intentionally build a team of top notch professionals of with whom to consistently work. Theriault's latest advanced training module, Epic Team Builder, shows people how to invest in real estate by building an "Epic Team," specifically; Where to find team members, how to assemble the team and how to maintain the team.
Theriault was inspired last year by a survey of 100 millionaire real estate investors of which noted that the most common source for their real estate deals was through their network and team of professionals.
"It was a no brainer to me as I look back on my own success I can easily say that 75% of my own deals came from the relationships that I had created over the years," says Matt. He goes on to say, "I've been committed for a while to revealing the realities of real estate to fledgling investors. Sure, many deals have come to me through my marketing methods and techniques of which I continue to teach to my students, but the majority of my deals have come from my relationships. If I'm going to be real with my students, then I've got to teach them the most effective way of finding new deals, and that's what I teach inside the Epic Team Builder."
Matt Theriault has assembled several teams across the country in cash flowing markets in suburbs of Chicago, Detroit, Memphis and most recently Columbus, OH. 2012 has been Matt's best year to date in real estate and he gives the majority of credit to the teams of professionals that he's been able to pull together.
"I'm a firm believer that the road to success for anyone can be significantly shortened when one can focus on what they do best and then delegate the rest," says Theriault. That belief, along with his years of experience, is the foundation and building blocks of Matt's newest advanced training module, Epic Team Builder.
People looking to build their own real estate investing team can learn more about Matt's Epic Team Builder at http://EpicTeamBuilder.com, and about Matt Theriault specifically at http://EpicProfessionals.com or call his Los Angeles office directly at (213) 587-0084.