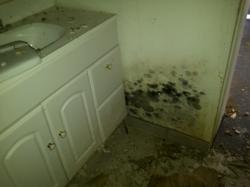 Molderizer changes the make-up of mold so it eliminates it completely and prevents its return.
New York, NY (PRWEB) May 13, 2013
The mold infestation triggered by Hurricane Sandy is still causing the New York City residents problems. And according to a report from nytimes.com, in a bid for more help to solve it, Staten Island residents marched the streets of the Midland Beach neighborhood. Responding to the news and with the intention to help, My Cleaning Products offered them a tip how to kill mold without the aid of harmful chemical ingredients.
The report stated that the marching was led by the nonprofit group Make the Road New York, MCP related. It added that the demonstration was to express the residents' frustration over the continuation of the mold problem in their community and to ask for more help from the city government.
However, based on the report, Peter Spencer, a spokesman for the city's Office of Housing Recovery Operations, countered that NYC has one of the most active projects against mold, the company related. It shared that project referred to by Spencer was the one that offers free mold remediation services to 2,000 low-income homeowners and renters. And out of that number, it added that there were still 800 slots left.
According to the report though Make the Road New York countered that only a small number of households knew about the program, MCP recounted.
Here's an excerpt from the post Staten Island Residents March for More Mold Help by My Cleaning Products.
"Hurricane Sandy left New York devastated. And no thanks to mold, that devastation continues up to this day.
The residents of Staten Island are among the thousands of people in NYC badly affected by the said superstorm. They are also some of those who could attest how mold doubled their problems and prevented them from completely recovering"
My Cleaning Products commented that it was easy to understand why Staten Island residents are eager to completely get rid of mold. After all, it's a big threat to health, it stated. However, with only limited slots for a fully-covered mold remediation service, it said that not all mold sufferers would have the help they need.
To help those who couldn't get aid, it shared a tip how to kill mold effectively, safely and inexpensively. That tip is to use the organic-based Molderizer.
MCP explained that Molderizer changes the make-up of mold so it eliminates it completely and prevents its return. Compared with hiring an exterminator, it said that the solution is also much cheaper. And given that it is made with organic ingredients, it stated that users could rest assured it would not compromise anyone's health.
To prove that it is really as described, the company encouraged the public to try it out. It shared that Molderizer Complimentary Samples are available at MyCleaningProducts.com.