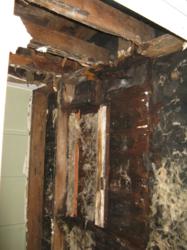 Molderizer contains no harmful chemical ingredients so it's safe for health and the environment...Molderizer contains no harmful chemical ingredients so it's safe for health and the environment
Richmond, VA (PRWEB) May 14, 2013
Mold brings in a huge spending. In Virginia, it even cost a couple nearly $500, 000 for its treatment, said a post from wsj.com. But knowing that not every mold sufferer could spend that much for a remediation, My Cleaning Products suggested tips how to kill mold with lesser expense. It also recommended the help of organic-based Molderizer.
My Cleaning Products shared that the Virginia couple referred to by the post dated May 2, 2013 were Os Guinness and Jenny Guinness. It detailed that the mold was discovered in the couple's townhouse when Ms Guinness continued to experience difficulty in breathing even after a successful surgery for lung cancer and decided to have their home tested for black mold.
The report stated that the test, which dates back in 2008, revealed a severe mold infestation at the house's firewalls, MCP recounted. But as it added, it was only this year that the couple were able to get back to their home after a long, arduous and expensive mold remediation and house renovation.
Here's an excerpt from the post Mold Gets Couple Spending $500,000 for Remediation and Renovation by My Cleaning Products.
"As you might already know, mold infestation could bring in several problems. Generally, it could wane your health and leave you spending thousands for its treatment. A couple from Virginia experienced that firsthand.
As identified in a post from The Wall Street Journal, the said couple was actually Os Guinness and Jenny Guinness of McLean, Virginia. Their townhouse was discovered to be mold infested in 2008 and only after 5 years of remediation and renovation that they were able to get back to it. The infestation was just so severe that they had to spend nearly $500, 000 just to make sure that the house is free from the spores."
Green cleaning company My Cleaning Products said that black mold is not one to ignore given the health and financial problems that it brings. And to help the public, especially those who couldn't afford expensive mold treatment, it shared with them tips how to kill mold effectively without spending too big.
Particularly, MCP advised everyone to detect and get rid of mold promptly. That way, a massive infestation and huge mold treatment expense are prevented, it said. And to get that done effectively, safely and inexpensively, it highly recommended the use of the organic-based mold remediation spray Molderizer.
The company detailed that Molderizer contains no harmful chemical ingredients so it's safe for health and the environment. Moreover, it shared that apart from killing mold, it also prevents its return as it alters the spores' DNA make-up.
To see it for themselves that the product is indeed an efficient to an effective, safe and inexpensive mold treatment, MCP encouraged everyone to try it. Molderizer Complimentary Sample, it said, is available at MyCleaningProducts.com.