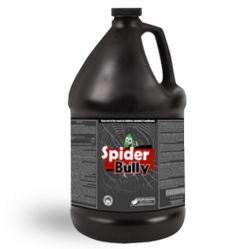 ...to make the process effective and inexpensive...MCP suggested to everyone with spider problems the do-it-yourself elimination with Spider Bully.
Denver, CO (PRWEB) April 22, 2013
Spiders are a torment not only to those who fear them but also to people who maintain a clean and organized indoor environment. And so to help them, My Cleaning Products published a new guide how to kill spiders. Moreover, it suggested the use of the spider spray called Spider Bully for an effective, safe and inexpensive spider elimination process.
According to the company, the eight-legged creatures are not as scary as individuals with arachnophobia think. Most of the 40, 000 species of them couldn't even penetrate the human skin, it explained. Nevertheless, given that they could make a place look unkempt, it said that it is understandable why many people want to get rid of them.
To help those people, My Cleaning Products posted a new guide on its website. Particularly, it published a guideline how to kill spiders effectively and inexpensively without risking the health of anybody.
Besides the step-by-step process of the actual elimination of the spiders though, it also shared some tips on its new guide. Those are specifically tricks how to prevent the arachnids.
Here's a part of the "How to Kill Spiders" guide by My Cleaning Products.
"Spiders are some of the least liked creatures in the world. Though Spiderman has managed to raise the popularity level of their order, many remain to be deathly afraid of them. In fact, arachnophobia is one of the top ten phobias experienced by men and women around the globe. No wonder why many want to know how to kill spiders in their houses no matter what specie it is.
Sure, those arachnids help reduce the number of insects in your house. But in return, they could make it look unkempt. No thanks to all of their cobwebs that a. And if their number gets out of hand, surely that could be annoying. It's basically just the same as having all those insects that they ate."
In the said guideline, My Cleaning Products stated that spider prevention could save a person from spending for the creature's elimination. However, it said that even with precautions, spiders could still infest a place.
So to make the process effective and inexpensive, in its guide, MCP suggested to everyone with spider problems the do-it-yourself elimination with Spider Bully. With the product, it stated that one doesn't need the help of any exterminator, hence, no big amount is required. Given that pest-control companies and hotels have proven that it works, there is also nothing to worry about its effectiveness, it added.
Moreover, the company shared that Spider Bully is a non-pesticide spider spray. FIFRA 25(b) has approved it as pesticide-exempt, it detailed. And so, it said that its users could rest assured that it is safe for everyone's health.
Spider Bully is available at MyCleaningProducts.com, MCP relayed.