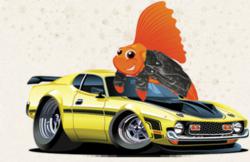 Work on reducing your credit utilization ratio, or the amount you are allowed to spend versus the amount you owe...
New York, NY (PRWEB) March 06, 2013
RoadFish.com men's lifestyle and finance magazine today released their statement regarding a recently published AP article explaining how home-buying requirements have become stricter, and highlighting ways for would-be home owners to achieve the best mortgage rates and secure a house as their own. RoadFish.com lent their own recommendations to the topic, and pointed out some additional expenses that potential homeowners might miss in an initial evaluation.
Alex Veiga of the Associated Press reported in an article featured on NBC that though mortgage rates are at a historic low and home sales are up, making homeownership quite appealing, the ability to buy a home is not necessarily a given for everybody that desires it. Veiga states that would-be homeowners need a solid financial plan, and includes a quote from Erin Baehr, a Pennsylvania certified financial planner, who states, "Now the requirements are much stricter. You have to have the right income, you have to have the right credit score and you have to have the right down payment to get the best rates out there."
Veiga's article goes on to provide tips to those shopping for a home, to help get their finances and their credit scores up to par to both be able to afford a down payment and to achieve the best mortgage rates. Tips include shooting to pay 20% as a down payment, adjusting one's monthly spending to act as though they are already a homeowner, and tackling the issue of buffing up a credit score very early on in the process.
RoadFish.com reinforces the fact that house-shoppers ought to start analyzing their credit score months, even years, before they are ready to purchase a home in order to give enough time to garner the change that they are hoping for. RoadFish.com's Senior staff writer is quoted as saying, "Credit scores are not things that change over night, it takes time and effort to get them where you want them to be. You can't pull your credit score the week before you go to apply for a mortgage, and expect to be able to make a dent in it. Even if you're a year or two away from being ready to start shopping for a home, it's definitely not too early to work on sprucing up your score. Work on reducing your credit utilization ratio, or the amount you are allowed to spend versus the amount you owe, and try to avoid scenarios where your credit needs to be pulled—such as opening up a new credit card or taking out another loan. You can check your credit so easily with a yearly free credit report, then see what needs to be worked on."
RoadFish.com points out that there are other expenses for potential homeowners to plan for that might not come into consideration before the fact. RoadFish.com's Senior staff writer is quoted as saying, "The AP recommends having enough saved up for a 20% down payment, but what about the cost of the move itself? You need to take into consideration packing materials, a moving truck, and possibly a moving crew. Those can literally come to thousands of dollars extra. If you're moving a distance, the cost goes up with the need for gas, airfare, movers' expenses, and possibly hotels during the trip to get there. Then there's the desire purchase furniture for the house, which you may or may not already have. Couches, tables, desks, beds, bureaus, ottomans—they all cost money. So if you're planning on dropping some coins on filling the house up right away, make sure you budget for that as well. It's true that many furniture stores allow buyers to finance, but do you really want to add another monthly expense to what you're already taking on with a house?"
In the above-mentioned article, Veiga highly recommends that potential homebuyers get themselves pre-approved for a loan before they begin serious house shopping, that way they will know how much they're able to spend on a house. Veiga points out the difference between being prequalified for a loan, and a preapproval letter, stating that being prequalified in no way commits the bank or lender to what they've stated. What it does do is give the potential borrower a solid idea of how what arena they're in.
About RoadFish.com:
RoadFish.com is an online magazine for men featuring articles about lifestyle and financial events, designed to help men who have already achieved a moderate level of success take it even further. RoadFish.com commonly presents articles on hotel and restaurant reviews, dating advice for men, and luxury men's items like cars and watches. RoadFish.com's financial advice includes credit card usage tips to maximize a credit score. RoadFish.com is owned and operated by Purpose, Inc.