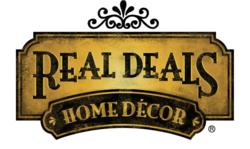 Real Deals on Home Decor offers various franchisee opportunities that set businesses up for success.
Saint George, UT (PRWEB) November 12, 2012
Starting a Home Decor Business 5 Pitfalls to Avoid
1) Thinking "Bigger is Better:" Many people have the theory of "more is always better." In the decor business, this is a common mistake. A big store with a lot of inventory is not necessarily better than a smaller store with quality, niche inventory. In any retail situation, this can be the case. People need to guard against putting most of their profits into inventory instead of pocketing profits. Focus on quality instead of quantity. Real Deals on Home Décor shops are usually smaller and
packed to the brim with quality inventory in their niche styles.
2) Trying to be Everything to Everyone: This ties a lot into the first pitfall, as it is important that startups are not trying to please a large crowd in every category of decor. Instead focus more on a smaller category of decor that people in the area are prone to take interest in and purchase. It's helpful to define your demographic and think about what décor items they will need and buy.
3) Assuming Everyone has the Same Taste in Decor: When starting a home decor business, it's important that owners don't just sell décor they personally like. Real Deals on Home Decor has a product team that creates suggested orders for franchisees. This team has been selecting great-selling home decor product and selling it across the country for years. It's also helpful to look around at other décor stores in the area and see what is trending in their boutiques.
4) Racking Up your Credit Cards at Market: Many times when people go to a large market in Las Vegas or Atlanta to buy product for their store, they get caught up in the excitement and buying everything the vendors recommend. Because there is an overwhelming supply of décor at market and so many different ways people can be steered by well-meaning vendors, it's best to have experienced buyers like those from Real Deals on Home Decor helping guide purchase choices among the chaos.
5) Spending on Advertising when Product is Lacking: Sometimes after initially opening, business owners starting a home decor business will spend a lot of money on advertising, but not continue buying new product. When sending out mailers, creating newspaper ads, advertising on the TV or radio, the store needs to have a constant turnover in product so there is something new when people come in. If people come to shop and the store is bare or the décor is the same week after week,
they will probably not come again. Be sure to have your product in place before spending money on advertising.
Keep these 5 pitfalls in mind when choosing how to start a home decor store, and look towards other experienced individuals to help along the way. Real Deals on Home Decor offers various franchisee opportunities that set businesses up for success. Don't go blindly into starting a home décor business, contact Real Deals today for more information on locations and choices.
Jeff Humphrey
VP Development
Real Deals on Home Décor, Inc.
770-265-4863
jeff(at)realdeals(dot)net
http://www.realdeals.net
Alecsy Christensen