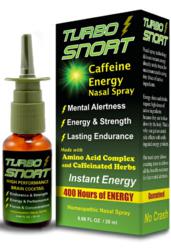 Howard Stern is the best bang for the buck in advertising and his audience is the perfect fit for Turbo Snort.
Clifton Park, NY (PRWEB) August 19, 2012
Turbo Snort caffeine nasal spray has launched a web based crowd funding project to finance a national advertising campaign on the Howard Stern Show. GSC Products, the company behind Turbo Snort turned to crowd funding based on the success other start-ups have had with various funding websites. Unlike the way large companies sell stocks, crowd funding under current laws doesn't allow an exchange of money for equity. Instead, small companies provide perks such as free product and special coupons in return for donations.
Turbo Snort is the brainchild of Wayne Perry, a noted inventor who ironically launched his first big product on the Howard Stern Show in 2004. Perry created Sinus Buster hot pepper nasal spray in his kitchen with less than $500. After announcing it on Stern's show, the company took off and Sinus Buster became a huge hit that's sold in thousands of stores today.
"Howard had been dropped by Clear Channel radio stations and I was fired by the same company over free speech issues. So Howard was kind enough to let me vent about Clear Channel, and when he asked what I was doing for work, I told him I was selling hot pepper nasal spray. He made a joke about it, but we did around thirty thousand dollars in sales within a few days and the company instantly took off. By 2005, we started advertising on his Sirius show," says Perry.
Sinus Buster created a big buzz on Sirius in 2006 by being the first to use profanity in a satellite radio spot. Unfortunately, Perry was left with nothing after striking a bad deal with a Wall Street investment firm in 2008. He has been determined ever since to recapture that fire and get Turbo Snort on the Howard Stern Show.
"We chose Howard Stern because he's the best bang for the buck in national advertising. Stern is probably responsible for 30% of the total revenue at Siriusxm. His listeners are super loyal and the show is a perfect fit for Turbo Snort. Howard Stern is a cost effective way to reach an audience of at least 8 million people, but it's still a lot of money for a small start up like us. So we decided to raise capital with a crowd funding campaign. Lots of start-ups have had luck with crowd funding. We'll see how it works for us," says Perry.
Donations for the Turbo Snort crowd funding campaign range from $1 to $500 with free perks provided at every level. The perks range from a lifetime 50% off coupon code all the way up to 70 free bottles of Turbo Snort. The campaign will run through September 27th at the crowd funding site Indiegogo.com.
About Turbo Snort and GSC Products:
Turbo Snort is the worlds' first caffeinated nasal spray designed to provide instant energy and alertness for caffeine users of all levels. This natural formula uses proven herbal extracts and amino acids to deliver safe low dose energy without the side effects of overly potent energy drinks, shots and pills. Turbo Snort retails for $14.99. Learn more at TurboSnort.com.
GSC Products is known for producing unusual natural health and beauty products in a variety of categories. Their products include acne, beauty, cosmetics, skin care and dietary supplements. Under their Greensations banner, the company's products have been featured by Dr. Oz., The Doctors, Shape Magazine and the New York Times. Learn more at Greensations.com.