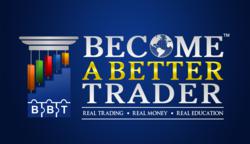 I like to take my time and identify high probability trades that focus on the risk versus reward, especially in the current market conditions.
Chicago, IL (PRWEB) March 07, 2013
Become A Better Trader, Inc. is proud to announce that Rob Hoffman, President and CEO, has been chosen to be the lead off speaker in a three week, three part "spring training" webinar series beginning March 13th, 2013. This complimentary webinar series, co-sponsored by IntercontinentalExchange (ICE Futures U.S.), Trader Kingdom, and Zen-Fire, will offer traders the opportunity to develop specific game plans for improving their trading as well as introducing new approaches or refining mainstream techniques to expand their trading playbooks.
Mr. Hoffman, primarily a trend trader, will deliver his keynote address titled, "Setups That Are Winning Right Now." As the title suggests, this presentation will focus on identifying the current trade setups he is using right now that are working in the current market environment. During this presentation, Mr. Hoffman will provide an in-depth look at each setup he is prepared to discuss, along with showing several chart examples where these setups have developed in his recent trading.
Mr. Hoffman tells us, "I like to take my time and identify high probability trades that focus on the risk versus reward, especially in the current market conditions. I have actually developed, and teach my students, several unique trading setups that help me to recognize and enter these types of trades," he added.
This online event with Rob Hoffman is scheduled for March 13, 2013 at 3:30 PM CT / 4:30 PM ET. To join this live event, as well as to be notified of future presentations and live trading events with Rob Hoffman, please sign up at http://www.BecomeABetterTrader.com/register/.
Rob Hoffman's presentations like this one showcase a variety of strategies and techniques. He focuses heavily on trade decision-making including entries, profit targets, and stop management. One of his notable talents is to help traders understand areas they should not be looking to enter trades, a lost art on most modern traders who are looking for constant and immediate gratification often resulting in frequent losses.
Rob Hoffman is Founder and CEO of Become A Better Trader, Inc. and an 18+ year veteran of the financial markets. Mr. Hoffman is a Professional Trader, frequent speaker for the major financial exchanges, and commentator on market and instrument direction. He is also a highly skilled educator and passionate mentor to tens of thousands of students from around the world, an International Trading Champion, and consultant to institutional clientele as well as aspiring traders.
For more Media Inquiries or information about this special event or upcoming events, contact Kim Thomas at media (at) becomeabettertrader (dot) com or visit http://www.BecomeABetterTrader.com.
About BecomeABetterTrader.com
Become A Better Trader, Inc. provides must-have educational resources in the area of Futures, Forex, Stocks, Options, and ETFs with a focus on both intraday and swing trading strategies for both short-term and long-term traders and investors. Clients range from aspiring traders to institutional clientele requiring private consultations.