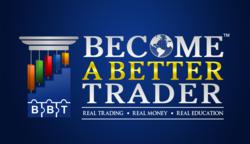 It's a real honor and privilege to be recognized and asked to represent the Chicago-area traders, and to further collaborate with my friends at TradeStation
(PRWEB) March 14, 2013
Rob Hoffman, an expert in how to trade the markets and the founder and CEO of Become A Better Trader, Inc., has been invited to and will be a featured guest at the upcoming TradeStation "day of trading education" live event on Sunday, March 17th.
This live event is scheduled to take place on Saturday, March 17, 2013 from 11 AM to 3 PM CT. Hoffman, along with three other Chicago-area professional trading standouts will deliver a presentation to attendees gathering at Loyola University's Kasbeer Hall.
At this live seminar, Mr. Hoffman will present on his widely popular and frequently requested keynote, "Favorite Trading Setups in TradeStation for Stocks, Futures, Options and ETFs." During this 60-minute presentation, Hoffman will spotlight a few of the trading setups that are working for him right now in the current market conditions.
"It's a real honor and privilege to be recognized and asked to represent the Chicago-area traders, and to further collaborate with my friends at TradeStation," says Hoffman. "I couldn't be more delighted to take part in this important local event."
Hoffman's presentations like this one often showcase a variety of real-world strategies and techniques. He primarily focuses on trade decision-making, including entries, profit targets, and stop management. Along with being known for his unique willingness to trade his real accounts live, Hoffman is also known for his talent to help traders understand areas they should not be looking to enter trades.
Anyone interested in attending should sign up at http://www.becomeabettertrader.com/register. For more Media Inquiries or information about this special event or upcoming events, contact Kim Thomas at media(at)becomeabettertrader(dot)com or visit http://www.BecomeABetterTrader.com.
About Rob Hoffman:
Rob Hoffman is founder and CEO of Become A Better Trader, Inc. and an 18+ year veteran of the financial markets. Mr. Hoffman is a Professional Trader, frequent speaker for the major financial exchanges, commentator on market and instrument direction. An international trading champion, Hoffman is a highly skilled educator and passionate mentor to tens of thousands of students from around the world and consultant to institutional clientele as well as aspiring traders.
About BecomeABetterTrader.com
Become A Better Trader Inc. provides must-have educational resources in the area of Futures, Forex, Stocks, Options, and ETFs with a focus on both intraday and swing trading strategies for both short-term and long-term traders and investors. Clients range from aspiring traders to institutional clientele requiring private consultations. To see what Become a Better Trader can do for you, visit http://www.becomeabettertrader.com.