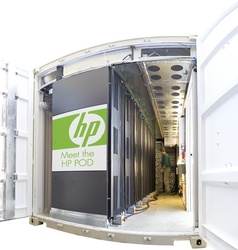 HP's innovative POD approach allows customers to deploy world-class, scalable, highly power-efficient data center resources quickly and ships in just six weeks.
PALO ALTO, Calif. (PRWEB) July 16, 2008
The new HP Performance Optimized Data Center (HP POD) offers Web 2.0, cloud computing, high-performance computing (HPC) and enterprise customers multiple choices as well as new levels of flexibility in deploying IT resources.
Keeping pace with the demands of IT growth in the data center, as well as rising energy costs, is a constant challenge as companies seek to deploy the latest technologies. The extended time and significant costs required to update or expand a data center make these challenges even more complex.
Designed specifically to support a wide range of industry-standard technology, the HP POD addresses these challenges by:
Supporting a wide variety of HP and third-party servers, storage and networking equipment, providing customers with more freedom to match their IT environments. Providing customers with more density than competitive offerings by supporting more than 3,500 compute nodes, or 12,000 large form factor (LFF) hard drives, in a 40-foot shipping container. Delivering the equivalent of 4,000-plus square feet of typical data center capacity that ships within six weeks of the customer's order. HP PODs are built to order and delivered through HP Factory Express, HP's customization, configuration and integration services organization. Offering flexible configurations optimized for power or density, which enables customers to quickly upgrade or extend the capacity of their physical infrastructures to meet their specific business needs. Providing HP POD Infrastructure Services, including assessment, preparation and deployment services, as well as data center design and planning through EYP Mission Critical Facilities, an HP company. HP POD stats:
Available in 20-foot or 40-foot containers Forty-foot container delivers:
22 x 50U, 19-inch full-depth industry-standard racks support HP and other companies' servers Support for 3,520 compute nodes, 12,000 LFF drives, or any combination 1,800+ watts/square foot, compared to 150 – 250 watts/square foot in a typical data center 600+ kilowatts of capacity Pre-integrated, configured and tested before shipment; shipped worldwide in six weeks from receipt of order Energy efficiency of PUE ratio <1.25 (1.07 excluding chiller) HP POD Infrastructure Services
Services available for the complete lifecycle of the HP POD:
Data center integration and planning Critical facilities services delivered by EYP MCF Tailored Factory Express POD Build, integrate, test and ship Onsite implementation Deployment, commissioning, acceptance testing Ongoing maintenance and support Options include proactive and critical service named services account team Spot the POD contest
Live or work in Silicon Valley? Win a brand new 42-inch television in the "Spot the HP POD" contest today only. Track the route online, snap a photo of the HP POD in your city and upload it to our blog, and you could win a brand new TV!
Visit our new HP Server Reality Check Blog for additional contest details – and access behind-the-scenes commentary from the HP POD design team: http://www.communities.hp.com/online/blogs/reality-check-server- insights/default.aspx
Additional Web resources on HP PODs:
More information about the HP POD products, software and services is available at http://www.hp.com/products/pod An HP POD virtual video tour is available at http://www.hp.com/go/pod See Christine Martino, vice president and general manager of the Scalable Computing and Infrastructure Organization at HP, provide a video overview of the HP POD, its features, customer use cases and benefits at http://h30431.www3.hp.com/?fr_story=4cb2a842506cd255d8837fed08 bd94bcc924c1bc&rf=bm Listen to an audio podcast introduction and overview of the HP POD with Christian Post, one of the key designers of the HP POD at http://h10068.www1.hp.com/blogpost/Podcast/Server_Performance_ Optimized_Datacenter.mp3 Additional information about HP's scalable computing and cloud infrastructure portfolio is available at http://www.hp.com/go/massivescaleout Executive quotes
"Customers have more flexibility to balance their capital expenditures and operating expenses while quickly and seamlessly meeting their needs for additional capacity with HP PODs," said Christine Martino, vice president and general manager, Scalable Computing and Infrastructure Organization, HP. "HP's innovative POD approach allows customers to deploy world-class, scalable, highly power-efficient data center resources quickly and ships in just six weeks."
"If it fits in a 19-inch rack and cools from front to back or other standard way, it will likely work in the HP POD," said Steve Cumings, director, Infrastructure, Scalable Computing and Infrastructure Organization, HP.
"Customers want flexible, open data center PODs that mirror the technologies found in their data centers today. HP believes this is a requirement to win in the data center container market and has specifically designed the HP POD to meet customer expectations for modular data centers," said Paul Miller, vice president, Marketing, Enterprise Servers and Storage, HP.
Partner quote
"HP's POD design, data center expertise, and global services are a powerful combination delivering a highly flexible container design with proven technologies. We too see the advantages of a data center strategy that combines brick and mortar and POD solutions, and we are working with HP to develop Intel(R) Xeon(R) processors, chipsets, networking and more that can deliver the highest possible benefits for container environments," said Jason Waxman, general manager of High Density Computing, Intel.
Keywords
Hewlett-Packard, HP, HP POD, pod, data center container, datacenter container, Web 2.0, cloud computing, high-performance computing, HPC, enterprise, IT, data center, datacenter, servers, storage, networking, data center strategy, HP services, HP software, HP BladeSystem, HP StorageWorks, EYP, EYP MCF, EYP Mission Critical Facilities, green, green IT, green data center, green datacenter, data center alternative, datacenter alternative, energy efficiency, density, compute density.
About HP
HP focuses on simplifying technology experiences for all of its customers – from individual consumers to the largest businesses. With a portfolio that spans printing, personal computing, software, services and IT infrastructure, HP is among the world's largest IT companies, with revenue totaling $110.4 billion for the four fiscal quarters ended April 30, 2008. More information about HP (NYSE: HPQ) is available at http://www.hp.com.
This news release contains forward-looking statements that involve risks, uncertainties and assumptions. If such risks or uncertainties materialize or such assumptions prove incorrect, the results of HP and its consolidated subsidiaries could differ materially from those expressed or implied by such forward-looking statements and assumptions. All statements other than statements of historical fact are statements that could be deemed forward-looking statements, including but not limited to statements of the plans, strategies and objectives of management for future operations; any statements concerning expected development, performance or market share relating to products and services; anticipated operational and financial results; any statements of expectation or belief; and any statements of assumptions underlying any of the foregoing. Risks, uncertainties and assumptions include the execution and performance of contracts by HP and its customers, suppliers and partners; the achievement of expected results; and other risks that are described in HP's Quarterly Report on Form 10-Q for the fiscal quarter ended April 30, 2008 and HP's other filings with the Securities and Exchange Commission, including but not limited to HP's Annual Report on Form 10-K for the fiscal year ended October 31, 2007. HP assumes no obligation and does not intend to update these forward-looking statements.
© 2008 Hewlett-Packard Development Company, L.P. The information contained herein is subject to change without notice. The only warranties for HP products and services are set forth in the express warranty statements accompanying such products and services. Nothing herein should be construed as constituting an additional warranty. HP shall not be liable for technical or editorial errors or omissions contained herein.
Long URLs in this release may need to be copied/pasted into your Internet browser's address field. Remove the extra space if one exists.
MULTIMEDIA GALLERY http://www.businesswire.com/cgi-bin/mmg.cgi?eid=5732073