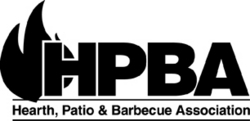 This year's Expo features an enormous array of innovative products to fit every family's budget.
Reno, NV (PRWEB) March 19, 2009
From innovative and affordable grills and smokers, to state-of-the-art outdoor kitchens and living products, the Hearth, Patio & Barbecue Association (HPBA) announced today the barbecue industry's latest trends and hottest products from the opening of the HPBExpo 2009 in Reno, NV. Shipping more than 16.7 million grills and smokers in 2008, the industry climbs to new heights as three out of four households (77 percent) own an outdoor grill or smoker.
"Consumers continue to crave the delicious food, convenience and relaxed atmosphere that come with outdoor cooking. Grill and smoker manufacturers are meeting consumer demand with products that are easy to use, while bringing restaurant-quality taste to consumers' backyards," said Leslie Wheeler, HPBA Communications Director. "This year's Expo features an enormous array of innovative products to fit every family's budget."
2009 Trendsetters
As the May to September peak outdoor cooking season approaches, consumers can expect to see grills, smokers and outdoor living products in high demand, especially as families choose to eat more meals at home. Trends that will drive sales in 2009 were revealed today at the opening of the HPBExpo, including:
The Multi-Tasker: In today's 24/7 society, consumers want products that make their lives simpler. Consumers can find grills ranging from two to 12 burners that allow for cooking different types of food at different temperatures at the same time. Many of today's grills come complete with everything from built-in infrared rotisseries to wok stations and side burners that enable consumers to prepare full meals at the grill - from meats to pies and side dishes, too. These multi-task grills are bigger and better than ever before and may come equipped with storage drawers, built-in thermometers, removable ash catchers and lights for nighttime cooking.
Affordable Infrared: Hotter, faster and the future of grilling - infrared is one of the most rapidly growing technologies in the industry. Packed with power, the intense heat of infrared technology continues to be popular by bringing at-home cooks the taste of restaurant-quality grilled steaks and meats to their own backyard, and in half the time as traditional at-home grilling.
Infrared burners are perfect for searing because they generate heat at a much higher and more persistent level than standard grills. Additionally, increased consumer demand for this high-temperature technology has made the infrared feature more affordable and can now be found in a variety of gas grills.
The Outdoor Oasis: Outdoor kitchens are transforming backyards into modern utopias. With all the comforts of a traditional kitchen, outdoor kitchens offer the same in-home amenities, such as sinks, blenders, cocktail bars, spacious cooking and prep areas, dishwashers and refrigerators, that make cooking outdoors a new and enjoyable experience, especially in this tight economy. Most outdoor kitchen designs are flexible and modular, allowing homeowners the opportunity to customize their version of the great outdoors just steps from their back door.
Accessories Galore: Every grilling guru wants the latest and greatest accessories. This year's must-have tools make it even easier to grill traditional and non-traditional meal favorites, such as handy baskets to cook mini-hamburgers or "sliders," potato grilling racks and non-stick grill toppers to steam or roast poultry, veggies and more. Also hot this year are accessories that help produce extra flavor, like smoker boxes for intense smoke flavor or grill plates that infuse convection oven taste into the food. To minimize clean-up time and maximize time spent with family and friends, cleaning tools come equipped with new advancements such as heavy-duty steam cleaning brushes for faster cleaning.
Hit the Road: Easy, practical and durable, portable grills and smokers are key to getting the grill party started no matter the location. Whether at the beach, campsite or parking lot of a sporting event, today's portable grills and smokers are not only lightweight, but come equipped with new features and technologies, like infrared grilling, to make on-the-go outdoor cooking a category of its own. To add to the experience, portable heaters and lighting are ideal for heating and brightening up the tailgate party.
2008 Grill and Smoker Shipment Breakdown
The barbecue industry remained strong in 2008, shipping 16,681,400 total grills and smokers. Gas grills continue to top the charts as the most popular type of grill, followed by charcoal and then electric.

Total Gas Grills Shipments - 9,614,000
Total Charcoal Grills Shipments - 6,775,000
Total Electric Grills Shipments - 292,400
Sizzling Season
May is National Barbecue Month and the kick-off to the peak grilling and smoking season, and also a prime time for consumers to buy the latest grilling and outdoor equipment and accessories. Retailers see their highest sales during the summer months, but also recognize steady sales continuing into the fall with consumers cooking outdoors well past Labor Day and into the winter months. In the coming year, the HPBA forecasts that as consumers keep a close eye on spending, the popularity of grilling and smoking will continue.
For more industry and HPBExpo information, please visit http://www.hpba.org and http://www.hpbexpo.com.
About Hearth, Patio & Barbecue Association (HPBA)
The Hearth, Patio & Barbecue Association based in Arlington, VA, is the North American industry association for manufacturers, retailers, distributors, representatives, service firms and allied associates for all types of hearth, barbecue and patio appliances, fuels and accessories. The association provides professional member services and industry support in education, statistics, government relations, marketing, advertising and consumer education. There are more than 2,700 members in the HPBA.
# # #