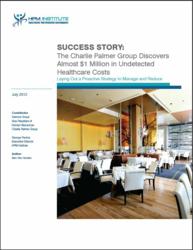 Having access to a platform to obtain clinical predictive modeling data, understand where the gaps in care are and analyze it is invaluable to us.
(PRWEB) June 28, 2012
The Healthcare Performance Management Institute today released a new success story, "The Charlie Palmer Group Discovers Almost $1 Million in Undetected Healthcare Costs, Laying Out a Proactive Strategy to Manage and Reduce," that explores the Charlie Palmer Group's implementation of an HPM solution to help control the organization's increasing health plan costs and identify $900,000 in undetected future costs.
"Having access to a platform to obtain clinical predictive modeling data, understand where the gaps in care are and analyze it is invaluable to us," says Sabrina Orque, Vice President of Human Resources for the Charlie Palmer Group. "It allows us to be proactive and manage potential costs."
The organization discovered that 20 percent of its members was on target to potentially cost the company approximately $900,000 within the next year and a half. With the plan's potentially expensive cost drivers identified, the Charlie Palmer Group now has the ability to target and engage its at-risk members and rein in health plan costs.
The success story also explores how an HPM strategy gave the Charlie Palmer Group, a multi-state restaurant company that grew out of the landmark New York City fine dining restaurant Aureole, created by Chef Charlie Palmer, access to real-time health plan data broken out by location, eligibility, union v. non-union, etc.
"Businesses should take this approach seriously," says Orque. "I'm near certain that few understand how to merge successful analytics technology with the integration of financial and clinical data, as we didn't at one point. With this analysis and actionable information, businesses can really make a change to take control of their plans."
Orque adds, "It makes no difference at all what industry you're in, in terms of using an HPM strategy to get a detailed, inside look at healthcare costs. Having that information about your group transcends simply learning about your health population."
The report can be accessed on the Institute's Website at http://www.hpminstitute.org/charliepalmergroup-success_story. Complimentary hard copies can be ordered by calling 1-888-505-4764.
About the HPM Institute
The Healthcare Performance Management Institute (HPM Institute) is a research and education organization dedicated to promoting the use of business technology and management principles that deliver better and more cost-effective healthcare benefits for employers who cover their employees.
The Institute's mission is to introduce and develop a new corporate discipline called Healthcare Performance Management (HPM)—a technology-enabled business strategy that tackles the challenge of controlling healthcare cost and quality in much the same way that enterprises have optimized customer relations, supply chain management and enterprise resource management. Supported by its four key pillars—Measure, Manage, Engage and Automate—HPM provides organizations with visibility and control over their healthcare benefits spending trends and risk management postures, while protecting individual employee privacy.