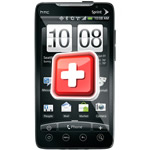 Sprint HTC Evo 4G Repairs Now Available at CellularDR.com
Glendale, California (PRWEB) September 20, 2011
CellularDR.com has introduced a three-step process to give customers an efficient and timely method to repair the Sprint Evo 4G cellphone, a device that is alternatively referred to as the HTC Evo 4G. CellularDR operates a nationwide cellphone repair center in Southern California, has streamlined procedures so that online customers can quickly report problems, pay online, and receive mailing instructions.
Although the National Cellular Phone Repair Center located in Glendale serves walk-in customers in the Los Angeles area, CellularDR's online presence provides customers throughout the United States and Canada with the same dependable repair services for the Sprint Evo 4G smart phone.
Once the CellularDR.com home page is accessed, customers can click on the Cell Phone Repair option to locate the description that best fits their cellphone problem. CellularDR.com maintains a vast stock of replacement parts for most of the popular cell phones and is a highly experienced HTC Evo repair shop. Among the hardware components adjusted or fixed at the shop are the Sprint Evo 4G Touch Screen Glass, LCD Screen Repair and the HTC Evo Charger Connector Repair.
After identifying the repair issue, customers have the opportunity to add additional information about their cellphone problems once the check out screen is open. Including specifics about how the phone is malfunctioning, which will give technicians information that can further expedite repair work. The third step is to determine how to mail the phone. Complete instructions are included to make sure there is no delay in receiving and servicing the cellular phone.
The Sprint Evo 4G cellphone has all of the features of a super phone, but the touch screen may be susceptible to a number of environmental and handling factors that necessitate repair. Dust and debris can damage the touch screen digitizer. If the cellular phone comes in contact with water, whether peripherally or completely submerged in liquid, the LCD screen can black out or fade. Some Sprint Evo 4G users experience glass separation or cracking, and both of these problems can be repaired quickly CellularDR.com.
In order to take advantage of the Sprint Evo 4G cellular phone's features, users need to both update and upgrade software as it becomes available. Within the last year HTC Corporation, the company that manufactures this cellular phone, released updates to allow syncing to multiple Gmail accounts and to make improvements to the calendar application. Updates are also periodically released to fix newly discovered software bugs. Users who do not have the time to keep up with new releases look for certified repair services to keep the Sprint Evo 4G cellular phone up to date.
For more information on how to fix a Sprint Evo 4G with LCD Screen, Touch Screen, Charger Connector, Speaker, Microphone or Ringer problems visit CellularDR.com. Before getting stuck buying a new cell phone at full price, save time and money by utilizing CellularDR.com cellphone repair services. With many years of experience and highly trained technicians, CellularDR.com is the name to trust in the cell phone repair industry. In addition to fixing all major cellphones, CellularDR.com also stocks a full inventory of Sprint Evo 4G replacement parts and provides other services such as, software upgrades, transfer of contact data and accessories along with other related cellular phone services that can be initiated online.
About The Company:
CellularDR.com is the trusted leader in providing cell phone repair, software upgrade, cellphone contact data transfer, cell phone repair parts, accessories and other cellular phone services both online and at their offices centrally located in Glendale, California serving the surrounding cities: Los Angeles, Pasadena, Burbank, La Canada, Studio City, Sherman Oaks, Santa Monica, Hollywood and North Hollywood. Services are provided on a variety of cellular phone makes and models including major brands such as Apple iPhone, Rim Blackberry, HTC, Kyocera, LG, Motorola, Nokia, Palm, Pantech, Samsung, Sidekick and Sony Ericsson cell phones.
Contact:
National Cell Phone Repair Hotline
Toll Free (877) 288-4488
http://www.cellulardr.com
Facebook
Twitter
###