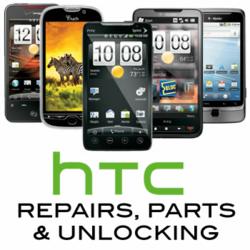 Make CellularDR.com Your All-In-One Source for HTC Cell Phone Repairs, Parts and Unlocking Services
Glendale, CA (Vocus/PRWEB) March 31, 2011
CellularDR.com is excited to announce the company's 50% off sale for all HTC cell phone repair services. This is a limited time promotion and has just been extended to cover HTC smart phones as well as all other makes and models available on the site. With this promotion, cell phone users can repair their HTC cell phone for even less than CellularDR.com's already low prices.
In addition to cell phone repair services CellularDR.com is also well known for the huge inventory of cell phone parts they stock for Motorola, Samsung, Blackberry and Apple iPhones, but the company also carries a vast inventory of HTC replacement cell phone parts. CellularDR.com's inventory boasts over 10,000 cell phone replacement parts from all major cell phone brands. Due to this large inventory of cell phone parts, the company is able to sell high quality cellphone parts at affordable prices to consumers, businesses and even other cell phone repair centers.
This affordable solution helps in two ways. First, it helps those who need to purchase a replacement part so that CellularDR.com can install it into their cell phone. Second, it provides easy access to parts needed for those who prefer to repair their own cell phone. For those consumers that choose to fix their HTC cell phone themselves, CellularDR.com has the absolute best quality replacement parts at the most competitive prices and makes it easy to purchase them through their state of the art online shopping cart system. With their descriptive part descriptions and clear images, you will know exactly what you are purchasing before you even have it in your hands.
Another cost effective service offered by CellularDR.com is the ability to unlock an HTC cell phone. This service has become more popular over the years as savvy consumers have come to realize a cellphone can be unlocked and used across almost any GSM network in the United States and even overseas. Unlocking an HTC cell phone such as an HTC Tmobile myTouch or an AT&T HTC Aria will provide the cell phone user greater freedom for choice of a cell phone network. Moreover, it will save money because the existing cell phone is transferred over to the alternate cell phone service provider, eliminating the need to purchase a new smartphone.
About CellularDR:
Celebrating their 15 year anniversary CellularDR.com is the trusted leader in providing HTC cell phone repair services, HTC cell phone parts, accessories and HTC cellphone unlocking services both online at CellularDR.com and at their regional repair center centrally located in Glendale, California serving the surrounding cities: Los Angeles, Pasadena, Burbank, La Canada, Studio City, Sherman Oaks, Santa Monica, Hollywood and North Hollywood.
CellularDR.com has been the leader in the cell phone repair industry for years on end. So whether you have an HTC or any other model cell phone such as Motorola, Samsung, Blackberry or even Apple iPhone CellularDR.com can meet all your cell phone repair needs and offer excellent prices on replacement cell phone parts and accessories.
Contact:
CellularDR.com HTC Cell Phone Repair Hotline
Toll Free (877) 288-4488
Like CellularDR on Facebook
Follow CellularDR on Twitter
###