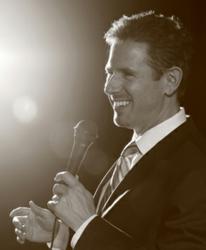 stop wasting time on social media
Springdale, Arkansas (PRWEB) April 25, 2012
Author and keynote speaker, Patrick Schwerdtfeger, will present his highly acclaimed "Social Media Victories" program for the Arkansas Society of Human Resources Management (ARSHRM) Conference in Springdale, Arkansas, on Thursday, April 26, 2012. His 75-minute session will begin at 10:45 AM and will repeat at 2:15 PM.
The conference will take place at the Holiday Inn & Convention Center located at 1500 South 48th Street, Springdale, AR 72762. Registration opens at 6:30 AM and a continental breakfast will be served at 8:15 in the hotel atrium. Patrick Schwerdtfeger's prepared comments are expected to last for 60 minutes, allowing for a 15-minute Q&A session at the end. He will also have copies of his award-winning book available for sale.
"The vast majority of professionals who are using Facebook, LinkedIn and Twitter are just wasting time", explains Schwerdtfeger. "We're going to look at the case studies that have actually produced results, and then distill those stories into simple strategies businesses can use immediately to build awareness and drive revenue."
Human resource professionals who are interested in the event can learn more at the website.
About Social Media Victories
Most people using social media platforms are just wasting time. Social Media Victories is a powerful keynote program by Patrick Schwerdtfeger that reviews 21 success stories where businesses leveraged these platforms and achieved real results. Platforms covered include Facebook, LinkedIn, Twitter, Pinterest and YouTube.
Social Media Victories distills these 21 case histories into a "winning formula" that virtually any business can use to revolutionize their marketing and dominate their industry. While most social media presentations fail to inspire action, attendees of Social Media Victories are consistently dazzles by the simplicity and practicality of Patrick's message.
About Patrick Schwerdtfeger
Patrick Schwerdtfeger (@schwerdtfeger on Twitter) is a keynote speaker who has headlined events for Bloomberg TV, Bank of America, Comcast Cable, Research in Motion (BlackBerry), Time Warner Cable and United Healthcare among others, as well as dozens of conferences and conventions around the world. His programs focus on business trends, small business marketing and the social media revolution.
Patrick is the author of Marketing Shortcuts for the Self-Employed (2011, Wiley) as well as Webify Your Business: Internet Marketing Secrets for the Self-Employed (2009) and Make Yourself Useful: Marketing in the 21st Century (2008). He has been featured by the New York Times, LA Times, San Francisco Chronicle, CNN Money, Fortune, Bloomberg Businessweek, the Associated Press, MONEY Magazine and Forbes, among others.
Patrick is available for television appearances and media interviews. He can be contacted through his website: