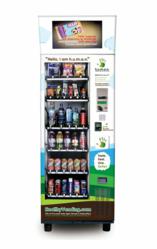 Senate Bill 210 may pose a challenge for some schools, but with our [HUMAN Healthy Vending] machines, we are already 10 steps ahead of the game
Cleveland, OH (PRWEB) August 26, 2011
This fall, Ohio students will notice some changes as they return to their schools' hallways and cafeterias. Due to Senate Bill 210, better known as the Healthy Choices for Healthy Children Act, junk food options and sales on school campuses will be minimized and limited.
Compliance with this new legislation will be a top priority for school administrators and teachers across Ohio as they prepare for the upcoming school year. Fortunately, schools that have already partnered with local operators from HUMAN Healthy Vending will find compliance with the state's new nutritional requirements an effortless endeavor.
HUMAN's machines are stocked with only the most healthy and nutritious foods and drinks that have been pre-approved by a team of certified nutritionists and healthy vending experts.
HUMAN has 20 vending machines in Cleveland, including at Magnificat High School, Brecksville-Broadview Heights High School, and Westlake City Schools.
Two local HUMAN operators, Besma Rahim and Saba Bahrani, have 10 machines placed in a number of Cleveland schools. They just launched machines in University School, Western Reserve Academy, Hawken School, Lutheran High School, and Broadway Boys & Girls Club of Cleveland.
"Senate Bill 210 may pose a challenge for some schools, but with our machines, we are already 10 steps ahead of the game," said Rahim. "We exceed every school's health standards. Not only that, these machines cost nothing for the schools and the kids absolutely love them. They've never seen such a fun vending machine!"
Traditional vending machines are stocked with unhealthy high-calorie and high-sodium foods that have been linked to childhood obesity. Due to this, the new law mandates that vending machines cannot be placed in classrooms, except in special circumstances. HUMAN Healthy Vending Machines bypass this requirement due to their completely healthy product selection.
Not only does the new legislation limit the sale of unhealthy foods and beverages, it also requires schools to mandate at least 30 minutes of physical exercise per day. Additionally, schools must administer a federal school breakfast program to students who meet specific requirements. These new legislative standards illustrate that positive changes for Ohio schools are underway, and healthy vending is aiding schools in this process.
HUMAN operators know the necessity of such changes. Besma Rahim and Saba Bahrani added, "As mothers of three kids each, we understand the importance of healthy eating, especially for our children."
About HUMAN Healthy Vending
It is the goal of HUMAN ("Helping Unite Mankind and Nutrition") to make universal access to healthy food and health education a reality. HUMAN distributes hi-tech and eco-friendly vending machines that sell 100% healthy foods and drinks. In addition to providing healthy food options, the machines provide health education via high-definition LCD screens that display streaming videos and other content. By making healthy products and healthy-living information accessible in schools, hospitals, gyms, community centers and additional public spaces, HUMAN empowers people to make healthy choices.
HUMAN donates 10% of its proceeds to charitable causes that fight childhood obesity and malnutrition. To learn more, go to: http://www.HealthyVending.com
###