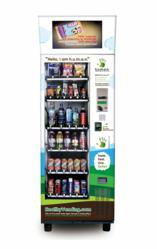 We believe HUMAN Healthy Vending will complement our wellness initiatives on health and nutrition. Not only are we providing healthy options, we are uniting with HUMAN in giving back to the community
Greenville, North Carolina (PRWEB) August 24, 2011
For most people, healthy vending machines are not a household name. However, two local businesses are working together to make access to healthy food easier than ever.
HUMAN Healthy Vending and DSM may seem like an unlikely match, but they have more in common than one might think. Local healthy vending operator, Kamela DeSutter, is launching the first-ever, healthy vending campaign in Greenville, and DSM was eager to join her cause. Beginning in January 2010, DSM has made a strong commitment to their wellness program, even developing a "wellness governance board" to support healthy choices made by employees and the community alike. So, when the company sought to find programs that would fit well with their new wellness initiative, they started looking into HUMAN Healthy Vending as an option.
"Our goal is to provide healthy snacking to our employees throughout the site for all shifts. HUMAN can provide our employees with a variety of healthy snacks to choose from," said Sheila Nassef, DSM HR Wellness Specialist. "We believe HUMAN Healthy Vending will complement our wellness initiatives on health and nutrition. Not only are we providing healthy options, we are uniting with HUMAN in giving back to the community" (HUMAN Healthy Vending gives 10% of its proceeds to charities that help fight obesity and malnutrition).
"We saw that there weren't as many choices as we wanted that were healthy and supportive of good nutrition," said Karen Warren, consultant for the DSM Wellness Program. "We realized there were limits for what we could get through typical vending companies, and we were really impressed with the HUMAN product line and the LCD screens that could be used for nutritional education."
HUMAN Healthy Vending machines feature state-of-the art vending technology. LCD screens are attached to the top of the machines, which can then display nutritional information and wellness tidbits. "Putting healthy foods in the machines won't be enough. People need to understand why it's important to eat these foods...and they need something to taste good," commented Warren.
The partnership between DeSutter, DSM and HUMAN is a milestone for the Greenville community. Creating universal access to healthy foods and drinks is HUMAN's mission to the core. Now that the obesity epidemic is reaching an all-time high, employers in the community are recognizing a need for change.
"It's really important that employees have healthy choices, and the environment has to support the changes that you're making," said Warren. "Changing the environment to one with healthier choices was our goal."
Various locations in Greenville are following DSM's lead, including Physician's East, Pitt Greenville Airport and The Hilton Greenville. Locations in the nearby city of Washington include Washington High School, Lifestyles Medical Fitness Center, Fitness Unlimited, and Beaufort Regional Health System.
About HUMAN Healthy Vending:
It is the goal of HUMAN (Helping Unite Mankind and Nutrition) to make universal access to healthy food and health education a reality. HUMAN distributes hi-tech and eco-friendly vending machines that sell 100% healthy foods and drinks. In addition to providing healthy food options, the machines provide health education via high-definition LCD screens that display streaming videos and other content. By making healthy products and healthy-living information accessible in schools, hospitals, gyms, community centers and additional public spaces, HUMAN empowers people to make healthy choices.
HUMAN donates 10% of its proceeds to charitable causes that fight childhood obesity and malnutrition. To learn more, go to: http://www.healthyvending.com
###