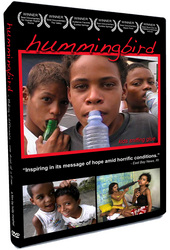 I had to make this film because I couldn't forget the look of hope in the eyes of the people in these programs.
Los Angeles, CA (PRWEB) September 28, 2007
Featured on PBS and at 25 film festivals around the world, filmmaker and producer Holly Mosher's award-winning film, "Hummingbird", is being released to DVD October, 1, 2007 for National Domestic Violence Awareness Month. Mosher's 50-minute documentary brings attention to the international issue of violence among women and children by telling the story of two organizations that are finding creative ways to fight against the alarming statistics.
"Hummingbird" highlights the work of the Women's Life Collective and the House of Passage in Brazil, which are helping women and children get off the streets and eradicate violence from their lives. Although unsettling at times, "Hummingbird" offers a message of hope by showing how one person can empower and inspire another to make positive life changes.
A 2000 UNICEF report suggests that anywhere from 20 to 50 percent of the female population in every country suffer from domestic violence. In the United States that figure is estimated at 28 percent.
Violence affects an individual's self-esteem, stability and often prevents them from leading normal and productive lives. "Hummingbird" shows how through nurturing vulnerable women and teaching them about their human rights, love and respect they can become productive members of their communities. The same type of unconditional love and acceptance given to at-risk children helps break the cycle of violence for future generations.
"I had to make this film because I couldn't forget the look of hope in the eyes of the people in these programs." said Mosher. "I also felt compelled to spread the profound stories of the inspiring women running these organizations."
"Hummingbird" will be available at http://www.hummingbirdmovie.com.
"'Hummingbird' profiles the work of two local nonprofits working with street children and abused women…this astonishing tribute highlights their bravery and courage in rescuing abused and at-risk children, as well as helping frightened mothers break the cycle of violence and ensure a better future." -Video Librarian (Volume 20, Issue 5)-
"A guiding light for a hopeful future, the truly hard hitting footage comes from Mosher taking to the streets and documenting exactly why these groups are important. First, you're scared to death and then your heart just snaps in half." -Eric Campos, FilmThreat-
About the filmmaker
"Hummingbird" is Mosher's debut as a director. She has produced numerous other projects, including two critically acclaimed films about the dangerous and misleading tactics of the pharmaceutical industry. The films, "Side Effects" and "Money Talks: Profits Before Patient Safety", received unprecedented international press attention and have been heralded for raising awareness about a timely and important topic.
Continuing with the underlying theme found in "Hummingbird"--one person can make a difference--Mosher is currently working on "Small Change: World of Difference". Her newest documentary will follow the work of the Nobel Peace Prize winning Muhammad Yunus and the Grameen Bank. The film will show how this unique organization is helping nearly 7 million women in Bangladesh turn their lives around by providing micro-loans (54 percent of their recipients have crossed the poverty line).
For more information, a "Hummingbird" screener or to schedule an interview with Holly Mosher, please contact Cari Reisinger at (209) 736-6769.
###