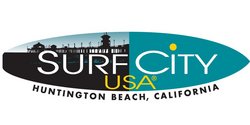 Huntington Beach, CA (Vocus) December 10, 2007
The Huntington Beach Conference and Visitors Bureau (HBCVB) knows the power of the brand is everywhere from Starbucks and Volkswagen to McDonald's and Apple. Brands sell by generating awareness; they can be powerful by creating a way of life or even a lifestyle. Like consumer products, destinations such as Huntington Beach compete and need to be marketed to attain awareness, recognition and preference.
"By branding Huntington Beach and all of its tourism related entities as Surf City USA, we help Huntington Beach remain in the public consciousness and build on the powerful imagery of Southern California surf culture and laidback, beach lifestyle," said Doug Traub, president/CEO of the HBCVB. "Brand awareness creates goodwill and demand among leisure, business and convention travelers alike."
The Surf City USA® brand was introduced in 2004 following an unprecedented, year-long market study conducted by the HBCVB that included tens of thousands of consumers and residents of Huntington Beach, the "Surf City" of Jan & Dean's 1960s anthem to sun, sand, waves and youth.
"Huntington Beach trademarked the 'Surf City USA' phrase to create a brand position that could be clearly associated with a lifestyle and state-of-mind," said Traub. "The brand is intended to capture the unique qualities of Huntington Beach and differentiate it as a prime destination among the many other cities along the Southern California coast."
To help drive the success of the SURF CITY USA® brand, the HBCVB has retained Trademarks International, a local brand and patent development and licensing agency. Currently there are nine registered trademarks for Surf City USA, with four more under consideration by the United States Patent and Trademark Office. There are 16 licensing partners offering products and services, including clothing and bags, financial services, beach cruiser bicycles, bottled soda drinks, photography and numerous other gifts and promotional items. The HBCVB's trademark applications represent a significant investment in its central marketing strategy and business approach.
"The Surf City USA brand is key to Huntington Beach," said Traub. "Over the next ten years, the HBCVB anticipates devoting every dollar generated by licensing into marketing initiatives including event sponsorship, advertising and other forms of brand promotion that benefit the community and help to improve the quality of life for both residents and visitors."
About the Huntington Beach Conference and Visitors Bureau
The Huntington Beach Conference and Visitors Bureau is the official destination marketing organization of Huntington Beach, California. As one of the top Southern California coastal destinations featuring premier California beach resorts, Huntington Beach is the ideal location for a California family vacation, weekend getaway or surfing trip. With 8.5 miles of pristine California beaches, Huntington Beach is fast becoming a destination of choice for vacationers and business travelers alike. To plan your Surf City USA® vacation or to learn more about Huntington Beach, visit the Huntington Beach Conference and Visitors Bureau website at http://www.surfcityusa.com or call 800-729-6232 for a free Visitors Guide.
Surf City USA® is a registered mark of the Huntington Beach Conference and Visitors Bureau.
Media Contact:
Huntington Beach Conference and Visitors Bureau
Wendy Haase
Director of Public Relations
Ph: 714-969-3492, ext. 207
wendy@surfcityusa.com
###