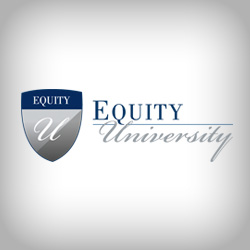 each attendee receives over $300 worth of educational bonus materials just for attending the seminar
Cleveland, OH (PRWEB) March 07, 2013
Equity University is the ultimate resource for wealth building and self-directed IRA investment education. Building on Equity Trust's experience as the leader in self-directed IRAs, Equity University provides the tools and resources to create true, lasting wealth.
Investors can discover how to take control of their financial future by attending this one-day Tax-Free Wealth Seminar by learning more about:

Investing in real estate and other alternative investments tax-free
Using innovative investment strategies that are working right across the country
Maximizing contributions while utilizing larger tax deductions
Networking with like-minded investors in your area
Creating a legacy that can last generations
The educational seminars are hosted by John Bowens, National Education Specialist at Equity Trust Company. John has worked in the commercial and residential real estate industries for nearly 10 years. He has held roles in the construction, operations and building management areas with a Northeast Ohio real estate investment company boasting over $50 million in assets.
Reviews from recent Tax-Free Wealth Seminar attendees can be found at http://www.TrustETC.com/taxfreewealth.
The next Equity University event will take place on Saturday, March 16, 2013 at the Holiday Inn Research Park in Huntsville, AL.
Those who sign up ahead of time receive early-bird registration pricing with up to three free guest registrations included. Plus, each attendee receives over $300 worth of educational bonus materials just for attending the seminar! Seating is limited – registration can be completed today at http://www.TrustETC.com/taxfreewealth.
About Equity Trust Company
Equity Trust Company, with its corporate headquarters in Greater Cleveland, Ohio and operations in Waco, Texas and Sioux Falls, South Dakota, is at the forefront of the self-directed retirement plan industry. The Company specializes in the custody of alternative assets in self-directed IRAs, Coverdell Education Accounts, Health Savings Accounts and qualified business retirement plans. Along with its affiliates, Equity Trust Company provides services to more than 130,000 individuals and businesses nationwide with approximately $12 billion in assets under custody. Since 1974, the company and its affiliates have helped investors achieve their financial goals through education, innovation, and a commitment to understanding individual needs. Visit http://www.TrustETC.com for more information.