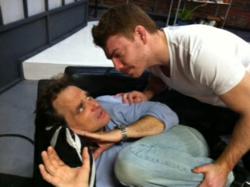 "Villanova grad David Rabe's 1984 drama about lost souls in Hollywood holds up surprisingly well, as director James J. Christy's meaty, raw revival shows." -- Philadelphia City Paper
Philadelphia, PA (PRWEB) March 12, 2013
New City Stage Company began previews of the Philadelphia professional premiere of "HURLYBURLY" by David Rabe on February 28 and the show has been well received, selling out many of its performances during the first 2 weeks. Arguably the highest rated play being performed in the greater Philadelphia area at this time, it has received rave reviews in all of the major publications, especially for lead actor Russ Widdall's performance and director James J. Christy's staging.
Mr. Widdall also starred as Bobby Kennedy in New City Stage Company's production of "RFK" in the fall of 2012 and will be reprising that role twice in 2013.
The play runs until March 24 and tickets can be purchased here or by calling (215) 563-7500. Seating is limited as tickets are going fast.
Read what the press is saying.
Philadelphia Inquirer:
"Overall, a successful staging of HURLYBURLY."
City Paper:
"HURLYBURLY is crude, rude and deep, despite its main characters' shallowness, and packs a wallop."
Talkin' Broadway:
"HURLYBURLY is gross and engrossing at the same time... And director James J. Christy's production for New City Stage Company makes it hard to look away, no matter how much we may want to."
Stage Magazine:
"Even at nearly three hours (with two intermissions), the play feels shorter than some one-acts. It's a strong script powerfully acted and directed (and evocatively lighted by designer Matt Sharp). Highly recommended."
ABOUT THE SHOW:
This riveting drama took New York by storm in 1984. Two movie casting directors live together and provide as close to a "home life" as they can for their friends and a runaway girl. These sad socialites are nose deep in the decadent, perverse cocaine culture of 1980s Hollywood, pursuing a sex crazed, drug-addled vision of the American Dream.
"A powerful permanent contribution to American drama...Riveting, disturbing, fearsomely funny... This deeply felt play deserves as wide an audience as possible." — Newsweek
ABOUT NEW CITY STAGE COMPANY:
New City Stage Company, founded in 2006, is dedicated to presenting high quality professional theatre that engages audiences on a variety of levels; not only entertaining them but also encouraging awareness of issues relevant to the community. We draw our season from contemporary and classical works, with a special focus on including Philadelphia premieres from local playwrights, and from storytellers whose work is not normally found in the region.
FOR MORE INFORMATION:
Interviews: Contact Publicist Ginger Dayle at Ginger.Dayle@NewCityStage.org or 215-603-9600
Press tickets: Contact Marketing Associate Sarah Scholl at Sarah(dot)Scholl(at)NewCityStage(dot)org or 717-421-3834.