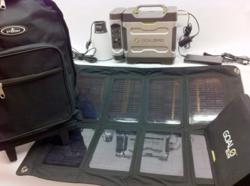 Even if you own a gas generator, fuel rationing and long gas lines can only add to your stress.
Tarzana, CA (PRWEB) November 12, 2012
The frequency of wild weather and power failures on our nation's electrical grid has been taxing not only to federal workers and utility company personnel, but especially upon the victims living in the path and aftermath of Hurricane Sandy.
According to The New York Times article by Andrew Martin entitled, 'Hurricane Sandy and the Disaster-Preparedness Economy', one New Jersey woman explained, "The wives in this area don't want jewelry for Christmas. They want generators."
Gas-powered generators have been flying off the shelves wherever they can be procured, but how does that help the apartment or high-rise dweller when dirty, noisy gas generators are forbidden?
PowerSurvival.com, a Southern California company has seen increased sales due to the devastating effects of Hurricane Sandy. They specialize in green energy generators and they claim to have the answer.
"We've assembled the latest solar technologies to package complete clean energy generator kits that are compact and easy to use," says a company spokesman. "Most of the recent calls we've taken are from apartment dwellers who were caught in the dark. The Solar Generator can be plugged into the wall continuously so that it will be ready when you need power, and can be recharged for free from the sun during a prolonged blackout."
"The Home Power Solar Generator fits into a large backpack on wheels and has a 400-watt Battery and Universal Power Inverter, foldable Monocrystalline Solar Panel and a bright Light-a-Life Lamp. Our 1250-watt Monster Power Solar Generator Kit can even power a full-size refrigerator and power tools, and can be charged using 4 solar panels mounted on a tripod for easy tracking of the sun's rays."
While the majority of Power Survival's sales were to folks in remote areas living off the grid, the warming climate has produced terrible weather threats and a new clientele for this small company.
"Who wouldn't want to keep their phones and laptops charged, or their lights and television on?" the spokesman continues. "Even if you own a gas generator, fuel rationing and long gas lines can only add to your stress. We sell energy independence!"
Power Survival has offices and a warehouse in Tarzana, CA. Call 866-305-1753 for technical information, or see details and purchase from their website at http://www.PowerSurvival.com