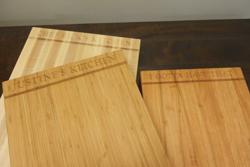 Barnstable Town, MA (PRWEB) March 08, 2013
Toby Leary feels at home among workbenches and power tools creating works of art. It was only natural for him to carve a niche for himself with a new line of custom-made products that includes ready-to-order high quality cutting boards as well as custom cutting boards, tables, butcher block countertops, podiums, and furniture.
Those items became so popular that his company, Toby Leary Fine Woodworking, Inc., is launching a new website, http://www.blockandtable.com, to display these unique products and offer easy online shopping. "People began to ask for handcrafted cutting boards, furniture and podiums and we've been accommodating their requests for a while now," Toby explains. "To make these items available worldwide and showcase our innovative product line, we're proud to announce the debut of our new easy-to-use website."
Located in Hyannis, Massachusetts, their 11,000 square foot state of the art facility uses only the highest quality materials and technology to create their products. With special orders, clients can specify preferences of woods and finishes. Although maple is the standard material for cutting boards, they offer a variety of wood species including exotic bamboo, teak, American cherry and white oak. Taking pride in each step of the finishing process, they can add special finishes or a personalized message. If a client wants something a bit unusual, they are happy to think outside the box.
For those who want a unique accent piece to show off in their kitchen, a cutting board can become an affordable piece of art designed to impress visitors or make them giggle with a humorous message. Searching for that one-of-a-kind wedding, anniversary, or housewarming gift or kitchenware gift for a mom, hostess, co-worker, or teacher? The artistic craftsmanship found in these products make a great unique gift that will be remembered and treasured for years to come. Personalized with a name, initial, or monogram, everyone will know who the master chef of the household is and loved ones will think of the gift giver every time they prepare food.
Cape Cod residents, who don't want furniture that looks like it rolled right off the assembly line, may want to invest in the time honored tradition of handcrafted furniture. If the words "custom-made furniture" automatically triggers the idea of divas and billionaires, consider that these pieces are often less expensive than antiques and items in high-end furniture stores. A quality custom table or piece of furniture will last for generations to come if taken care of properly. A beautiful handcrafted podium or pulpit with a business, church, or school logo will stand out whether someone is giving a professional presentation in an office, school, or church.
For more information and to see samples of this company's unique products, please visit their new website http://www.blockandtable.com, or to learn more about this company with an A+ rating from the Better Business Bureau, check out their company website http://www.tobyleary.com.
About Toby Leary Fine Woodworking
Toby Leary Fine Woodworking is a full-service design, construction and building company specializing in high-end finish trim and custom casework. Established in 2003 by Toby Leary, the business has grown and is now operating out of an 11,000 square-foot facility at its headquarters in Hyannis, MA. Toby Leary Fine Woodworking is the area's direct source for fine architectural and woodworking services. The staff includes designers, construction supervisors, custom furniture and cabinet makers, and highly skilled finish-trim carpenters. They have an A+ rating with the BBB and serve Martha's Vineyard, Hingham, Osterville, Cohasset, Weston, Wellesley, Newton, Wayland and Chatham.