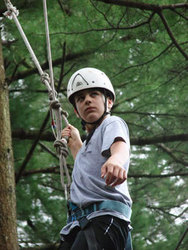 If you are looking for a boarding school that prepares teenagers for life after high school, Hyde Schools is the right place for you.
Bath, ME (Vocus) March 31, 2010
This summer program blends outdoor experiences with a dynamic leadership and character development curriculum designed to create a dynamic and positive peer culture—one that encourages students to honor one another for their effort and attitude and where everyone becomes part of a unified team. This summer program option pledges to cultivate positive learning attitudes in teenagers and build the confidence, character, and tools needed to brave a challenging world.
Program Offerings:

Academic enrichment (non-credit) - with a dose of character-building.
Wilderness trips - adventure in the wilderness of Maine.
Athletics - challenges that bring new meaning to being part of a unified team.
Performing arts - where the stage is a vehicle for learning how to take the right kind of risks.
Community service - where the common things in life are done in an uncommon way…and it commands the attention of others.
Jobs Program - where the harder one works, it seems like the more luck one has.
Daily leadership and challenge opportunities - where confidence builds by taking each plunge.
Small student groups led by veteran faculty - where wisdom grows by sharing and listening.
Family-based character development support for parents - where parents also opt in for reaching their best.
Beautiful, state-of-the-art facilities and grounds provide an inviting learning environment.
This summer program for teens is designed to help students discover their best attitudes, the attitudes that free them up to become school leaders. Learn more about this exciting program.
About Hyde Schools:
Hyde Schools is a network of public and boarding schools and programs known widely for its successful and unique approach to helping students develop character. Parental involvement is a key factor in why Hyde is lauded as one of the premiere character-building schools in the world. Lear more about Hyde Schools.
###