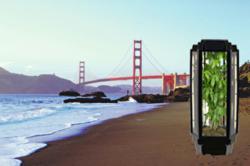 Gardena, CA (PRWEB) March 30, 2012
Phototron Holdings, Inc. (OTCBB: PHOT) (OTCQB: PHOT), the company behind the "grow your own" revolution, manufactures hydroponic growing systems that make personal farming easy and accessible to everyone. From now until April 19, 2012, Phototron is holding a contest using, but not affiliated with, Facebook that gives fans the chance to win a free Phototron Original hydroponic grow kit in celebration of the 420 cannabis holiday.
The way the contest works is simple. Phototron will post pictures every couple of days on its Facebook page (http://www.facebook.com/phototron) of hydroponic grow boxes at work in famous locations around the globe, which fans will need to identify.
A picture with the title "Win a Phototron Contest" will be posted every couple of days featuring a different location. Contestants can enter their guesses to where Phototron is "growing its own" by following the link included in the picture post or by going to http://www.phototron.com/contest.
Of course, the pictures won't be real, but the concept behind the contest is that the Phototron hydroponic growing containers are designed to grow vegetables, herbs, flowers and fruits in any environment. With its ECO-Brain and Phototron Plant Nutrition line of all natural hydroponic nutrients, Phototron makes indoor gardening easy, and produces extraordinary results.
Fans are allowed to submit one guess, or entry, for every photo that is posted to the Phototron Facebook page during the contest period. The contest ends at midnight on April 19, 2012. A grand prize winner will randomly be selected from the correct entries and be announced on the Phototron website on April 20.
To enter, fans 18 years of age or older must submit their full names, email and physical addresses (no PO Boxes), telephone numbers and answers to the location question on the contest entry form found on the Phototron website.
Contestants should keep checking the Phototron Facebook page at http://www.facebook.com/phototron to find the clues for a chance to win. Official rules for the contest can be found at phototron.com/rules.
Phototron systems and hydroponic growing supplies are available for purchase from the company's website: phototron.com.
About Phototron Holdings, Inc.
Phototron Holdings, Inc. (OTCBB: PHOT) (OTCQB: PHOT) designs and manufactures cutting-edge indoor mini-greenhouses capable of year-round growth of herbs, vegetables, flowers, fruits and medicines, better, stronger and faster than traditional farming methods. The Phototron Hydroponic Indoor Grow System, commonly called grow boxes, is built upon decades of research on the optimal temperature, light, water and nutrient needs of plants. The Phototron System uses proprietary lighting that mimics the sun's rays to grow nutrient-rich, pesticide-free, eco-friendly crops faster and in more bountiful quantities than those of traditional gardening methods, resulting in fruits and vegetables of superior taste and quality.
For comprehensive investor relations material, including fact sheets, presentations conference calls and video, please follow the appropriate link: Investor Presentation (trilogy-capital.com/content/phot/phot_deck.pdf), Investor Portal (trilogy-capital.com/autoir/phot_autoir.html) and Investor Fact Sheet (trilogy-capital.com/content/phot/phot_ifs.pdf).
Forward-Looking Statements
This release contains "forward-looking statements" for purposes of the Securities and Exchange Commission's "safe harbor" provisions under the Private Securities Litigation Reform Act of 1995 and Rule 3b-6 under the Securities Exchange Act of 1934. These forward-looking statements are subject to various risks and uncertainties that could cause Phototron's actual results to differ materially from those currently anticipated, including the risk factors identified in Phototron's filings with the SEC.