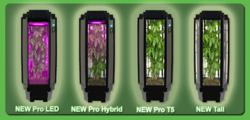 It is critical that public companies begin to seriously support medical patients growing their own marijuana in states that have allowed for this type of quality of life enhancement for patients
Gardena, CA (PRWEB) June 05, 2012
Phototron Holdings, Inc. (PHOT:OTC BB), a leading hydroponic grow systems company, is positioned to take maximum advantage of President Obama's recent clarification regarding medical marijuana patients and states' rights.
In a recent interview with Rolling Stone magazine, President Obama clarified that the federal government has no interest in prosecuting users of marijuana for medical purposes.
"This is a very important pronouncement," said Sterling C. Scott, CEO of Phototron Holdings, Inc. "President Obama has very clearly signaled that federal prosecutorial resources should be limited to abusive recreational uses of marijuana, not legitimate medical patients."
Phototron Holdings, Inc. has been anticipating this position clarification for months, actively expanding (organically and by acquisition) to provide most of the core products that medical patients need in order to successfully grow their own herbal, quality of life enhancing, medicines in the comfort of their own homes, with safe and effective products.
"It is critical that public companies begin to seriously support medical patients growing their own marijuana in states that have allowed for this type of quality of life enhancement for patients," said Scott." Phototron Holdings is prepared to lead this effort with our rapidly growing public company."
Phototron Holdings, Inc. is the parent company to a wealth of carefully selected top-end indoor hydroponic growing brands like the Phototron growing cabinets, Stealth Grow LED lights and, soon to be acquired, Greners.com.
The revolutionary Phototron hydroponic growing containers make it easy for gardeners to grow indoors, utilizing innovative technology like the ECO-Brain computer system found in the Phototron Pro Series and long lasting Stealth Grow LED lights.
The latest addition to the Phototron Holdings family is Greners.com, a top online retail outlet for hydroponic equipment that features quality hydroponic products from soils, grow bulbs, ballasts, climate control equipment, and LED grow lights, including Stealth Grow LEDs and Phototrons.
According to Scott, the future of Phototron Holdings is a bright one, filled with expansion and the eventual evolution into a major force in the industry segments in which its companies participate.
The entire line of Phototron growing containers, nutrients and other growing supplies are available for purchase at Phototron.com and Greners.com, and top-of-the-line LED growing lights can be found at StealthGrow.com.
About Phototron Holdings, Inc.
Phototron Holdings, Inc. (PHOT:OTC BB) is a company with core holdings in innovative technology-based products and services for the indoor gardening industry and specialty markets. These brands include Stealth Grow LED, producer of hi-powered LED (Light Emitting Diode) grow light products for indoor horticulture, and Phototron, producer of hydroponic growing containers which are designed to grow vegetables, herbs, flowers and fruits in any environment. With its ECO-Brain and Phototron Plant Nutrition line of all natural hydroponic nutrients, Phototron makes indoor gardening easy, and produces extraordinary results. For further information on Phototron Holdings, Inc. please visit http://www.phototronholdingsinc.com
Greners.com is the #1 source for indoor gardening / hydroponic supplies and product information. Greners.com strives to offer the best customer service, the best hydroponic supplies in the industry, as well as the most extensive knowledge and accessibility
To learn more about Phototron products please visit phototron.com
To learn more about Stealth Grow LEDs please visit stealthgrow.com
To learn more about Greners please visit greners.com