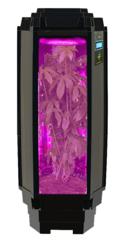 Phototron Holdings, Inc. has seen the effectiveness of LED hydroponic growth and acquired Stealth Grow LED as a way to stay ahead of this trend in indoor growing
Gardena, CA (PRWEB) June 07, 2012
A recent study by researchers from McGill University and the University of Tennessee shows that LED lighting is more efficient than traditional lighting and as effective for hydroponic growth. Phototron Holdings, Inc. (PHOT:OTC BB) is at the forefront of the indoor hydroponic growing industry, and by acquiring popular brands like Stealth Grow LED, ahead of the trends.
The study, titled "Comparison of Light-emitting Diode and High-pressure Sodium Light Treatments for Hydroponics Growth of Boston Lettuce," concluded that improvements in light-emitting diode (LED) technology have positioned it as a suitable replacement for traditional growing lamps.
"Phototron Holdings, Inc. has seen the effectiveness of LED hydroponic growth and acquired Stealth Grow LED as a way to stay ahead of this trend in indoor growing," said Sterling Scott, CEO of Phototron Holdings, Inc. "Stealth Grow LEDs are unparalleled in terms of technology."
Phototron Holdings, Inc. is the parent company to popular indoor hydroponic growing brands like the Phototron growing cabinets, Stealth Grow LED lights and, soon to be acquired, Greners.com.
Phototron hydroponic growing containers have revolutionized indoor gardening, making it easy for even amateur gardeners to grow professional results. With innovative technology at the core of what makes Phototron the leading hydroponic growing brand, many models of these containers include an ECO-Brain computer system and Stealth Grow LEDs that yield impressive growth.
"What makes a good LED grow light is a combination of light intensity and a correct balance of light spectrum," said Scott. "Stealth Grow LEDs solve both these problems."
According to Phototron Holdings, Inc. the benefits of using Stealth Grow LEDs to grow indoors are numerous. Stealth Grow LEDs remain energy and cost efficient by emitting the right amount of energy for effective growing. And by using the most advanced chip technology available, they provide the optimum light spectrum for flowering plants and the secretion of essential oils.
Stealth Grow LED light panels are now being sold through many retailers, including the thousands of retail hydro stores supplied by SunLight Supply and online hydro superstore Greners.com.
The entire line of Phototron growing containers, nutrients and other growing supplies are available for purchase at Phototron.com and Greners.com.
About Phototron Holdings, Inc.
Phototron Holdings, Inc. (PHOT:OTC BB) is a company with core holdings in innovative technology-based products and services for the indoor gardening industry and specialty markets. These brands include Stealth Grow LED, producer of hi-powered LED (light-emitting diode) grow light products for indoor horticulture, and Phototron, producer of hydroponic growing containers that are designed to grow vegetables, herbs, flowers and fruits in any environment. With its ECO-Brain and Phototron Plant Nutrition line of all natural hydroponic nutrients, Phototron makes indoor gardening easy and produces extraordinary results. For further information on Phototron Holdings, Inc. please visit http://www.phototronholdingsinc.com
Greners.com is the #1 source for indoor gardening / hydroponic supplies and product information. Greners.com strives to offer the best customer service, the best hydroponic supplies in the industry, as well as the most extensive knowledge and accessibility.
To learn more about Phototron products please visit phototron.com
To learn more about Stealth Grow LEDs please visit stealthgrow.com
To learn more about Greners please visit greners.com