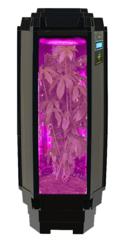 We understand that people can be intimidated by growing their own medical marijuana
Gardena, CA (PRWEB) June 20, 2012
With concerns rising amidst the "gentle ban" for Los Angeles medical marijuana dispensaries and other challenges in the medical marijuana industry, Phototron Holdings, Inc. (PHOT:OTC BB), a leading indoor hydroponic grow systems company, provides a practical way for cannabis patients to grow their own.
According to Phototron Holdings CEO Sterling Scott, "This is a major advantage to the patient community and sets Phototron Holdings apart from other publicly held companies that are active in the medical marijuana community such as Cannabis Science, Inc. and Medical Marijuana, Inc."
"We understand that people can be intimidated by growing their own medical marijuana," said Scott. "But with Phototron and Stealth Grow growing supplies, patients can continue to support themselves with the prescribed treatments notwithstanding the confusion within the industry."
Phototron hydroponic growing containers allow patients to easily grow medicinal cannabis plants in the comfort of their own homes, which is allowed under the proposal in Los Angeles. The revolutionary ECO-Brain technology included in the Phototron Pro Series helps even the most amateur gardeners grow marijuana indoors – in states where it is legal – and produce professional results.
The advanced ECO-Brain controls the growing environment inside of the Phototron so the highest possible plant growth rates are achieved. A quick look at the Phototron's ECO-Brain information panel tells the user exactly what the plant needs at each stage of growth.
Features of the ECO-Brain include automated lighting, sensors to detect water level/moisture, a variable speed fan to control humidity and temperature levels, and a carbon filter to remove organic odors so the user can "set it and forget it."
Phototron also makes indoor growing easy with its own brand of brand of specially formulated nutrients and Stealth Grow LED lights, which are featured in some Phototron systems. Stealth Grow LEDs last between 3-5 years, use less energy and are cheaper to operate than other growing lights. Stealth Grow LEDs are also available for larger grow rooms and are some of the most technologically advanced LEDs on the market and can be found at stealthgrow.com
"With all the controversy around dispensaries, it seems that 'growing your own' will soon be the only way to get your medicine," said Scott. "Phototron Holdings understands this and will continue to support the medical cannabis community by offering state of the art products to help make growing easier."
The entire line of Phototron growing containers, nutrients and other growing supplies are available for purchase at phototron.com and the soon to be acquired greners.com. For complete user guides and manuals on how to grow with Phototron, please visit phototron.com/manuals.
About Phototron Holdings, Inc.
Phototron Holdings, Inc. (PHOT:OTC BB) is a company with core holdings in innovative technology-based products and services for the indoor gardening industry and specialty markets. These brands include Stealth Grow LED, producer of hi-powered LED (light-emitting diode) grow light products for indoor horticulture, and Phototron, producer of hydroponic growing containers that are designed to grow vegetables, herbs, flowers, fruits and medicine in any environment. With its ECO-Brain and Phototron Plant Nutrition line of all natural hydroponic nutrients, Phototron Holdings, Inc. makes indoor gardening easy and produces extraordinary results. For further information on Phototron Holdings, Inc. please visit http://www.phototronholdingsinc.com
Greners.com is the #1 source for indoor gardening / hydroponic supplies and product information. Greners.com strives to offer the best customer service, the best hydroponic supplies in the industry, as well as the most extensive knowledge and accessibility
To learn more about Phototron products please visit phototron.com
To learn more about Stealth Grow LEDs please visit stealthgrow.com
To learn more about Greners please visit greners.com