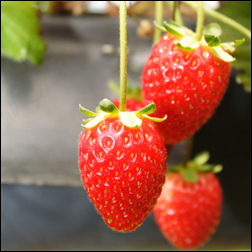 Ottawa, ON (PRWEB) June 21, 2007
As temperatures start to rise nationwide, spending significant time outdoors tending to flowers, herbs, fruits and vegetables may not be practical and, when paired with the current drought conditions in many states, gardeners everywhere are looking for a way to maintain their favorite hobby and its cherished annual yield. This explains why many are turning to a new website, http://www.Simply-Hydroponics.com, to learn all about gardening that can be done inside and away from the heat and damaging sun rays and conserves both water and soil.
Simply put, hydroponics is the practice of growing plants in either a bath or flow of highly oxygenated, nutrient enriched water that is perfectly balanced. And since this hydroponic nutrient solution is contained, it does not harm the environment, as does runoff from fertilized soil. Additionally, very little water is lost to evaporation in a hydroponic system, owing to its application in drought stricken areas.
This is particularly important when water bans take effect across North America during the coming summer months and in areas of the world where land and water are scarce, such as Zimbabwe, where an 11-year hydroponic gardening project at St. Werburg's Primary School in rural Mutare (Old Umtali) continues to provide nutritious food for children after a drought severally hampered food production in the region.
However, closer to home, the same benefits that are provided to people of many third world countries are also provided to city dwellers who fight similar battles of dwindling gardening space and water supply, allowing anyone, anywhere to easily and affordably enjoy growing and eating organic fruits and vegetables year-round with little effort or little cost.
For those who may have more gardening space, higher temperatures in the summer and lower temperatures in the winter have dramatically cut down garden growing time, which explains why even those with sufficient space are finding that hydroponic gardening provides them with a more consistent, better tasting, highly nutritious crop -- from fresh berries and vegetables to cooking herbs and even decorative flowers.
Likewise, as summer-time vacations get penciled for trips to locales with cooler weather, the hydroponic gardener can leave without worry, for his or her indoor garden is low maintenance and can take care of itself with pre-set timers and automatic watering.
In fact, because hydroponic gardens are so worry-free, they are perfect for children who are interested in gardening and are sure to fascinate them with their non-soil growing system, resulting in no mess. How's that for an indoor child hobby?
And, because an indoor hydroponic garden can be set up in a few easy steps, especially if you start with an Aerogarden, which provides everything you need in a single kit, you and your family can enjoy fresh fruits, vegetables, herbs and flowers in no time at all.
About Simply-Hydroponics.com
Simply-Hydroponics.com is a one-stop-shop resource for information on hydroponic gardening, providing affordable products for indoor gardeners of every level of expertise. Started by Charlotte Bradley who, as a resident of Canada, was looking for a way to grow vegetables for her family year-round, the website boasts the latest resources and updated information, making it easy for anyone, anywhere, to start, maintain, and grow the garden of their choice indoors without harmful chemicals.
# # #