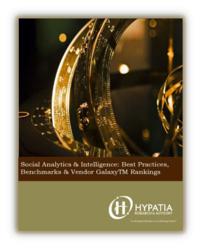 "Ideally, social analytics & intelligence software tools should help organizations measure the effectiveness of social business results.Thus, software is a major part of an overall strategy, operational workflow & executable plan." --Leslie Ament
Boston, MA (PRWEB) August 02, 2012
Industry analyst and market research firm Hypatia Research Group announces availability of a new primary research study entitled "Social Analytics & Intelligence: Converting Contextual to Actionable". Featuring the unique Hypatia GalaxyTM Evaluation, in which 24 software vendors are evaluated by 12 criteria, this report showcase current trends, organizational challenges, best practices, and return on investment metrics utilized by top performing organizations via 50+ pages, 21 tables or figures and several case studies that focus on business return on investment.
Hypatia Research Group surveyed more than 1200 global organizations for this research and found that only 526 respondents actually utilize, recommend, influence, and hold budget or veto power over the purchase of social analytics and intelligence software at their place of employment. As a result, only analysis derived from these 526 respondents was utilized for this research.
Leslie Ament, vice president, and senior analyst at Hypatia Research Group stated, "Early adopters have jumped on social analytics for measuring tactical and/or operational metrics primarily. As a result these companies are grappling with which metrics, trend analysis, and/or key performance indicators to utilize (available through dashboards, visualization or other types of reporting) in order to gain the most from investment in this technology. Our research found most organizations fall into one or more of the following maturity levels:

Clients know they need metrics but are uncertain as to what to use in order to be effective;
Clients expect vendors to provide them with a menu of available metrics or KPI's to choose from;
Clients know precisely which metrics they want for each of their business objectives."
Ament summarized, "Ideally, social analytics and intelligence software tools should help organizations measure the effectiveness of social media on business results. Thus, software is a major part of an overall strategy, operational workflow and executable plan."
Other research findings include:

How organizations set goals and objectives for investment in Social Analytics & Intelligence initiatives.
Which role(s) are primarily accountable for these programs, and moreover, how should these teams be structured organizationally.
How are organizations harmonizing customer's online interactional information with transactional data stored within legacy systems such as CRM, marketing databases, financial systems or data warehouses?
Return on investment benchmarks by geography, industry, maturity level and size.
Which best practices or lessons learned from other organizations' effective social analytics & intelligence initiatives might benefit my organization.
Over 500 respondents with direct accountability for selection or use of social analytics software and services were utilized for this primary research. Company size of respondents is: 37.5 % large enterprises, 33.9% mid-market and 28.6% SMB. Geographic breakouts are: 49.1% North America, 26.7% EMEA, and 24.5% Asia PAC: Australia, China, Japan, and Korea. Potential customers of this research may download a 20 page executive summary by signing up to receive Hypatia Research Group newsletters using this link; http://store.hypatiaresearch.com/index.aspx?dc=HRG:SocAnal&Intel.
About
Industry analyst and market research firm Hypatia Research Group http://www.HypatiaResearch.com delivers high impact market intelligence, industry benchmarking, best practice, and vendor selection research for how businesses use technology and service providers to capture, manage, analyze and apply customer and market intelligence to enhance performance and accelerate growth. Coverage includes: CRM, Business Intelligence, Customer Analytics, Social Media, Marketing Automation, Information Management, and GRC. Since 2001, clients have relied on us for industry insight, expertise and independent market research for guidance in assessing various technology and service options.