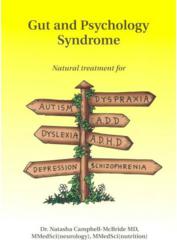 All diseases begin in the gut! The Father of modern medicine, Hippocrates, made this statement more than two thousand years ago. - Dr. Natasha Campbell-McBride
Columbia, SC (PRWEB) March 19, 2013
About Your Health is proud to announce that their co-founder, Yvonne Lucas, is now a GAPS Diet Certified Practitioner. This will allow About Your Health to better serve their customers suffering from digestive disorders and the mental stress that comes with these disorders.
Gut and Psychology Syndrome (GAP Syndrome or GAPS)™ is a condition that establishes a connection between the functions of the digestive system and the brain. This term was created by Dr. Natasha Campbell–McBride, MD, MMedSci (neurology), MMedSci (human nutrition) in 2004 after working with hundreds of children and adults with neurological and psychiatric conditions, such as autistic spectrum disorders, attention deficit hyperactivity disorder (ADHD and ADD), schizophrenia, dyslexia, dyspraxia, depression, obsessive –compulsive disorder, bi-polar disorder and other neuro-psychological and psychiatric problems.
Dr. N. Campbell-McBride emphasizes nutrition as the core intervention for the GAPS protocol and successful management of GAPS digestive disorders. Dr. Campbell-Mcbride helped her own son recover from a severe learning disability. She believes that the link between learning disabilities, the food and drink that one takes in, and the condition of the digestive system is absolute. The GAPS diet provides the information one needs to heal a damaged digestive system. This is for anyone suffering from Autism, Dyslexia, Depression, Dyspraxia, ADD, ADHD, Schizophrenia, and any other condition that has a link with gut dysbiosis.
Contact About Your Health to schedule a GAPS Consultation with Yvonne Lucas.
About the company:
About Your Health is a business located in Columbia, South Carolina. Their main focus is health education and they offer many health enhancing services to the public including Hyperbaric Oxygen Therapy and Thermography. Their core belief is the same as an age old proverb "No time for your health today, no health for your time tomorrow". They encourage everyone to take what is rightfully theirs (good health) and take it to the limit. About Your Health can also help with breast thermography, colonic cleansing, foot baths, infrared sauna therapies, and nutrition counseling. For more information visit their website at http://www.aboutyourhealthsc.com