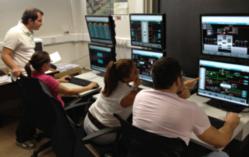 Hyperion's OTS solutions represent the best-in-class combination of experience, technology and methodology.
Nicosia, Cyprus (PRWEB UK) 30 March 2013
Hyperion is solidifying its positioning in OTS, specifically in the Russian market, with new projects for three major oil companies, in the last 12 months. Companies in Russia increasingly value the importance of the OTS systems and invest on world-class simulators which lead to increased safety and efficiency of production.
OTS training is one of the most cost-effective tools for Operator training. An OTS allows the Operator to experience many operating situations in a relatively short period of training time, usually just before the plant is commissioned. An OTS thus represents the best method for conducting supervised training exercises that help to reduce operational errors. Therefore the use of OTS results in maximization of plant availability, increased plant productivity and improved product quality.
Hyperion has worked with some of the world's largest National and International Oil Companies, Engineering & Construction corporations, as well as many other regional manufacturers for the provision of Process Modeling and OTS systems. Company's clientele includes Shell, BP, Saudi Aramco, Preem Petroleum, Motor Oil Hellas, Hellenic Petroleum, Peru LNG, Gazprom, LUKOIL, Metafrax, CB&I, Linde, and others.
Hyperion's OTS solutions embody the following key characteristics:

Extensive engineering resources and process experience.
Hyperion, being the lump sum turn key (LSTK) supplier for various training simulation projects, has vast experience in the development and delivery of high-fidelity and generic OTS systems for the Process Industry.
Significant experience in the development and delivery of OTS systems for both Emulated and Stimulated (direct connect) solutions for the Distributed Control System (DCS) and Emergency Shut Down (ESD) sections of the OTS system.
ISO 9001:2008 certified project methodology allowing efficient deployment of OTS solutions.
Executive management support of OTS business ensuring that the projects receive the highest level priority and attention should it be required.
A commercially accepted and widely-deployed, industry standard OTS technology platform
Independence from any specific vendor's process technology or hardware solution, removing any potential conflict
Provision of strong and sustained maintenance activities and after-sales support, worldwide.
The combination of these capabilities means Hyperion is able to offer solutions that:
Deliver a higher return on investment at lower risk
Meet the schedule requirements
Provide OTS systems that can be used to generate value in engineering and operations analysis
Hyperion's approach provides accurate, maintainable simulators that can be used for operator training, verification of operating procedures control strategy testing and operations improvements across the project's lifecycle. This approach delivers significantly higher long term value and return on investment than other simulators that are only used to assist with initial operator training prior to plant start-up.
The skills and expertise of the Hyperion team include the full scope of OTS delivery services:

Project Management
Process Modeling
DCS and ESD systems emulation and/or integration
OTS configuration
Testing
Training
Documentation
System support
together with a range of on-site services, essential for maintaining the schedule especially on large simulator projects.
About Hyperion
Hyperion Systems Engineering is a globally operating, independent provider of consulting & advisory services, systems engineering solutions and professional implementation services and support to process manufacturers. With 20 years of experience in the Upstream Oil & Gas, Petroleum Refining & Petrochemicals, Chemical, Power, Water and Metals industries, Hyperion helps its customers reduce operating and supply chain costs, improve safety and increase their overall profitability, always cognisant of environmental impact.
Employing a workforce of top engineers, consultants and project managers distributed across several locations, Hyperion operates world-wide delivering systems engineering solutions in areas such as Process Modeling and Optimisation, Operator Training Simulators, Basic and Advanced Process Control, Manufacturing Execution Systems, Data Validation and Reconciliation, Laboratory Information Systems, Plant Performance Management and Advanced Supply Chain Planning and Scheduling.
Hyperion's professional advisory and consulting services range from Strategic Opportunity Assessment, Technology Readiness and Front End Engineering Design studies, Project Management Consulting and Program Management, to knowledge transfer assurance, technology review, training and education.
Hyperion Systems Engineering Ltd. is a company incorporated under the laws of the Republic of Cyprus and is the holding company of the Hyperion Systems Engineering group with registered subsidiaries in Greece, China, Russian Federation, Singapore, Kingdom of Saudi Arabia, Kingdom of Bahrain, India, United Kingdom and the United States. The company is also certified to the ISO 9001:2008 standard, is reviewed by TRACE International and is accredited with the Investors in People Standard.
For more information, visit hyperionsystems.net or contact:
Hyperion Systems Engineering Ltd.
38, Strovolou Avenue
Nicosia, CY2018, Cyprus
Phone +357 22840700
Fax +357 22590009