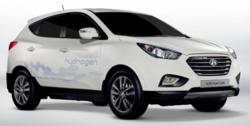 (PRWEB) March 21, 2013
The Hyundai ix35 Fuel Cell has been selected for the second consecutive year by the European Commission-backed Fuel Cells and Hydrogen Joint Undertaking (FCH JU) to demonstrate 'real-world' benefits of hydrogen fuel cell technology. The world's first production fuel cell electric vehicle, the ix35 Fuel Cell, will be made available throughout 2013 to members of the European Parliament, European Commission officials and other policymakers for test drives in Brussels, Belgium.
Hyundai Motor was awarded its first leasing contract for a hydrogen-powered fuel cell car by the FCH JU in October 2011. Over the course of 2012, the ix35 Fuel Cell was presented to EU decision-makers, stakeholders and the general public at a number of demonstration drives and public events in Brussels and other locations across Europe.
President of Hyundai Motor Europe B.K. Rhim said: "We are delighted that the FCH JU has chosen the ix35 Fuel Cell as its European demonstration vehicle and look forward to working with them to promote the benefits of hydrogen and fuel cell technology. We are sure that the leading policymakers and opinion-formers who drive this remarkable vehicle will find its ability to deliver performance and comfort without compromising its eco-friendly nature with tailpipe emissions highly compelling."
Hyundai has become a world-leader in the development of hydrogen fuel cell technology since the introduction of the Santa Fe FCEV in 2000, and operates a dedicated fuel cell research division at its Eco Technology Research Institute in Korea. In January 2013 the company became the world's first automaker to begin assembly-line production of zero-emission, hydrogen-powered vehicles.
Hyundai plans to build 1,000 examples of the ix35 Fuel Cell by 2015 for lease to public and private fleets, primarily in Europe, where the European Commission has established a road map for construction of a Pan-European hydrogen fuelling station network. A total of 17 ix35 Fuel Cell vehicles have already been ordered by the cities of Copenhagen, Denmark and Skåne, Sweden.
Leading automakers, including Hyundai, have declared support for more refuelling stations to prepare the market for mass production of hydrogen fuel cell vehicles.
The Hyundai ix35 Fuel Cell
Using Hyundai's proprietary technology, the ix35 Fuel Cell's fuel cell stack converts hydrogen into electricity, which turns the vehicles motor. The only emission generated is water. The ix35 Fuel Cell can be refuelled with hydrogen in only a few minutes. It accelerates from 0 to 100 km/h in 12.5 seconds, has a top speed of 160 km/h and can travel 594 kilometres on a single tank.
The ix35 Fuel Cell is the result of 14 years and several hundred million euros of research by hundreds of engineers at Hyundai Eco-Technology Research Institute in Mabuk, Korea. The car has logged more than 3 million kilometres of road tests in real-world conditions in Europe, Korea, and the U.S.