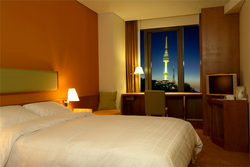 Millions of real travelers worldwide have helped identify these outstanding hotels, recognized for their exceptional accommodations, service, and value.
Singapore, Singapore (PRWEB) February 6, 2009
Hotel ibis Myeong-dong Seoul has been recognised by TripAdvisor® in its 2009 Travelers Choice® Awards as one of Asia's top 10 bargains and ranked number 29 of 100 of the best bargains world wide.
Patrick Basset - Vice President for South Korea, Japan, Philippines and Vietnam for Accor says "ibis Myeong-dong is a likely recipient of such an award. The hotel has a location in the main shopping and business district of Seoul that is second to none, offers extremely competitive and transparent pricing and the quality of the hotel product and services sees the hotel perform very well with Accor's internal guest feedback measurement systems". He went on to say "in the economic times like today, customers seek value accommodation, and ibis Myeong-dong Seoul offers the value for money that you have come to expect of the ibis hotel brand".
Now in its seventh year, the TripAdvisor Travelers Choice Awards honour the world's best hotels, earning their distinction from those who know them best - real travelers. Unlike any other hotel awards program, TripAdvisor® Travelers' Choice® winners are based on the millions of real and unbiased reviews and opinions about hotels on tripadvisor.com™ and content from across the web.
"TripAdvisor travelers always appreciate great values, and 2009 is certainly no exception. The 2009 Travelers' Choice awards highlight more bargain properties than ever before with 190, nearly five times as many as last year," said Michele Perry, vice president of global communications for TripAdvisor. "Millions of real travelers worldwide have helped identify these outstanding hotels, recognized for their exceptional accommodations, service, and value."
ibis Myeong-dong, like all ibis hotels around the world, offers around-the-clock service, meaning that regardless of their time of arrival, guests can rest assured they will find bar services and snacks available at the hotel. The "8-hour non-stop" breakfast concept implemented in all ibis hotels globally is adapted to the pace of guests - available anytime from 4am to 12pm, and the quality of each guest's stay is guaranteed by a "15 minute Satisfaction Contract".
For reservations or further enquiries visit http://www.ibishotel.com
About ibis
ibis, the worldwide economy hotel brand of the Accor group, offers consistent quality accommodation and services in all its hotels, for the best local value: a well-designed and fully-equipped en-suite bedroom, major hotel services available 24/7 and a wide choice of on-site food and beverage options. The quality of the ibis standard has been recognised by the International Organization for Standardization certification ISO 9001 since 1997. ibis is also the world's first hotel chain to demonstrate its environmental commitment through securing the ISO 14001 certification, which has already been awarded to nearly one third of its hotels.
Established in 1974, ibis is the European leader and one of the first economy hotel chains in the world, with more than 90,000 rooms and 800 hotels in 40 countries, including 17 in China.
About Accor
Accor, a major global group and the European leader in hotels, as well as the global leader in services to corporate clients and public institutions, operates in nearly 100 countries with 150,000 employees. It offers to its clients over 40 years of expertise in two core businesses:

Hotels, with the Sofitel, Pullman, MGallery, Novotel, Mercure, Suitehotel, Ibis, all seasons, Etap Hotel, Formule 1 and Motel 6 brands, representing 4,000 hotels and nearly 500,000 rooms in 90 countries, as well as strategically related activities, such as Lenôtre;
Services, with 30 million people in 40 countries benefiting from Accor Services products in employee and public benefits, rewards and loyalty, and expense management.
About TripAdvisor Media Network - http://www.tripadvisor.com
TripAdvisor® Media Network, operated by TripAdvisor, LLC, attracts more than 32 million monthly visitors* across 13 popular travel brands. TripAdvisor-branded sites make up the largest travel community in the world, with more than 25 million monthly visitors*, nine million registered members and 20 million reviews and opinions. Featuring real advice from real travelers, TripAdvisor-branded sites cover 300,000+ hotels and attractions and operate in the U.S, the U.K, Ireland, France, Germany, Italy, Spain, India and Japan. TripAdvisor® Media Network provides travel suppliers with graphical advertising opportunities and a cost-per-click marketing platform. Collectively, the sites comprising the TripAdvisor Media Network have won hundreds of awards and accolades from press and industry worldwide. TripAdvisor and the sites comprising the TripAdvisor Media Network are operating companies of Expedia, Inc. (NASDAQ: EXPE).
###