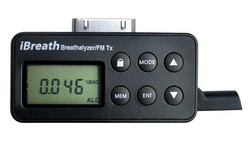 alcohol-related motor vehicle accidents kill someone every 31 minutes, and injure someone every two minutes in the United States alone.
Newport Beach, CA (PRWEB) May 6, 2009
Popular with Hollywood's A-listers, the renown iBreath is a convenient and essential piece of technology that connects directly to an iPhone or iPod and provides assurance that one never drive under the influence again. Now is the best time to purchase because of this limited-time discount. Users need not risk their job, reputation or safety when they can own one now with a $30.00 savings on each compact iBreath!
The National Center for Injury and Preventions Control reports that "alcohol-related motor vehicle accidents kill someone every 31 minutes, and injure someone every two minutes in the United States alone." The manufacturers of iBreath Alcohol Breathalyzer don't want you to be a statistic and have made owning an iBreath even more enticing with this great discount. This handy little tool was a bargain at $89.00 and is now available for a limited time for only $59.00.
The iBreath is the ultimate iPod and iPhone (original and 3G) accessory and has been labeled the "Best iPod Accessory Ever!" by Gizmodo.com. The iBreath allows users to take their own alcohol breath test, so they'll remain safe after a night out and don't risk endangering themselves and others.
The iBreath is simple to use and very portable. Simply fold out the blow wand and exhale into it for at least five seconds. Two seconds later, the iBreath Breathalyzer will display the user's current alcohol levels and whether they are over the legal limit to drive. Another handy feature is a built-in timer that can be set from one minute up to eight hours in order to remind users when it's time for the next test.
An added bonus is that the iBreath also doubles as an iPod FM transmitter that transmits iPod tunes to any FM tuner, allowing for double function and use. The iBreath can be purchased at: http://www.davidsteele.com/Breath-Breathalyzer-for-iPod-p/b-1000.htm.
Don't Drink & Drive!
Features of the iBreath include:

Compact, stylish design
No batteries needed
All functions and results shown on iBreath LCD display
0.000-0.200% BAC Range
Margin of error +-.01
Wireless FM Transmitter
12v Car Plug, for those times when users may not have an iPod or iPhone handy to use
USB cable
Instruction Manual.
For more information contact Don Bassler at 949-823-9445.
Disclaimer:
"Made for iPod" means that an electronic accessory has been designed to connect specifically to iPod and has been certified by the developer to meet Apple performance standards. Apple is not responsible for the operation of this device or its compliance with safety and regulatory standards. The iPod is a trademark of Apple Inc., registers in the US and other countries.
iBreath is a registered trademark of David Steele Enterprises, Inc.
David Steele Enterprises, Inc. makes no warranties, express or implied, as to the ability of this device to determine whether a user is intoxicated or able to operate machinery or a motor vehicle in a safe manner. Don't Drink and Drive.
###