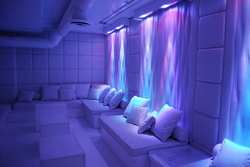 Long Beach, CA (PRWEB) March 16, 2009
The much anticipated grand opening of Boutique ICE Restaurant and Lounge in Long Beach is scheduled for Friday, March 27, 2009. Thirty percent of the proceeds from the grand opening event will benefit the Stramski Children's Development Center at Miller Children's Hospital in Long Beach. Doors open at 6pm and admission is $35. Guests with paid admission will enjoy various samplings of Sushi and Tapas prepared by Executive Chef Isao. The charity event is hosted by Steel Magnolias Founder, Shirley Wild and Co-Chair Emeritus Jacquie Wetenkamp.
Then at 9:00pm, ICE will convert the restaurant into a posh ultra lounge, complete with multiple VIP areas. Special celebrity and Playmate appearances have been arranged by official energy drink partner, Playboy Energy Drink. Live DJs will remix club hits, top 40 and mash ups. Advanced reservations for VIP tables are recommended and there is no cover charge to enter the lounge for guests with VIP table reservations.
Executive Chef ISAO has created several unique and decadent Sushi and Tapas offerings, including their signature ICE Fire Sushi Roll (see photo). The grand opening selections served will encompass several items from both the dinner and late night menus. For reservations to the ICE Grand Opening or for VIP table reservations to the Ultra Lounge, contact ICE at 562-495-8200. Website - http://www.ICELB.com.
About Boutique ICE Restaurant & Lounge:
ICE Restaurant and Lounge is located at 49 South Pine Avenue on the ground level of the historic Ocean Center Building. ICE Restaurant offers guests a combination of Sushi and Tapas in a decadent, social lounge atmosphere. ICE occupies 7,000 square‐feet and the location is a much needed, new high‐end restaurant and lounge that bridges the Pine Street scene with the Long Beach Pike.
The décor at ICE is all white custom furniture made from Ostrich leather, modularArts® wall panels, cutting‐edge LED lighting and a state‐of‐the‐art sound system. ICE was created to attract trendsetting clientele with a distinct style and passion for great food and atmosphere. A key element of the restaurant will be the room made of solid ICE. Currently, only two exist in the United States (Las Vegas and Orlando). Once completed, the ICE lounge will be the only one in California. Guests will be able to enjoy specialty libations inside a room with solid ice walls and ice furniture.
About The Steel Magnolias:
Steel Magnolias is a volunteer group established in 1999 with a singular mission to raise funds and to promote goodwill and the public's awareness of the needs and services of the Stramski Children's Developmental Center at Miller Children's Hospital. Membership is by invitation only and is limited to 50 active members. There is always a waiting list for membership. Eight of the current or past members are past recipients of the prestigious Rick Racker Women of the Year Award. Since its inception, the Steel Magnolias have raised several hundred thousands of dollars for the Stramski Development Center. http://www.TheSteelMagnolias.org - 501(c)3 #95-6105984
For questions about the press release or requests for photos contact Ones We Love, Media Relations 800-893-9932. All reservation requests should be made with ICE Restaurant and Lounge directly.
###