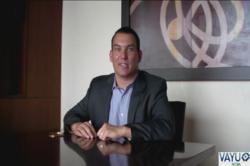 The SEO industry is adapting to a year with significant changes. However, businesses are still flourishing and we'll discuss what strategies still hold true.
Atlanta, Ga (PRWEB) September 29, 2012
Al Loise Director of Market Development at Vayu Media will present the segment: "The 5 Truths about SEO in 2012" at the ICE eBusiness Conference.
In this session, Al Loise, Director of Market Development, Vayu Media, will discuss the 5 Truths about SEO in 2012 that every eCommerce business owner or stakeholder must understand. From the latest algorithm changes to the continuously evolving factors for SEO, Al will review key items to ensure your website stays not just in the good graces of Google, but thrives and flourishes in 2012 and beyond.
A University at Albany graduate, Al consults with businesses of all sizes on developing a successful marketing strategy that delivers a positive ROI. His client base consists of both B2B and B2C businesses, including eCommerce businesses. Vayu Media was recently selected by the International Business Times as one of 2012's top search engine marketing firms globally.
Prior to joining Vayu Media, Al had gained extensive experience in marketing and business development in a variety of different organizations, where he was responsible for managing and developing employees and implementing different initiatives to increase revenue and market share. For a full Bio please view Al Loise's bio: http://www.linkedin.com/in/alloise
The conference:
On October 5, 2012, the Internet Commerce Entrepreneurs (I.C.E.) Group's first-ever ICE eBusiness Conference in Atlanta, GA will be held, attracting industry experts and eCommerce business owners from through out the United States. The event will bring together thought leaders and successful professionals in the fields of Multi-Channel Marketing, SEO, PPC, Social Media, Merchandising, Promotions and Cross Border Trade for a comprehensive overview of the rapidly expanding arena of Internet Commerce.
The Conference is scheduled for October 5-6 at the Hilton Atlanta Airport Conference Center, 1031 Virginia Ave Atlanta, GA 30354.
A few remaining tickets are still available at http://iceatlanta.eventbrite.com/. Attendance is limited to 50 participants.