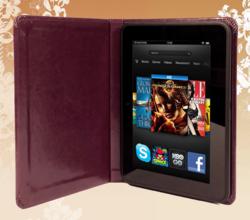 ...This is like a marriage between the modern and the traditional books.
San Francisco, CA (PRWEB) March 19, 2013
There are a numbers of different tablet devices on the market as well as tablet cases. But iDreamCase is probably one of the only few companies makes truly handmade tablet cases in San Francisco.
"We have been preparing since Amazon launched Kindle Fire HD," says the owner, Gabi Hanoun. "Amazon Kindle is one of the leading digital book readers' favorite device, so we are very excited to be able to support the users. This is like a marriage between the modern book and the traditional book."
iDreamCase released with 4 beautiful colors for Kindle Fire HD case, Metallic Blue, Sand, Burgundy and Steel.
Including the NBA player from Houston Rockets, Omer Asik, all iDreamCase owners are very satisfied with the products.
"Literally the sleeve of my dreams - soft leather and minimalist look." commented Christine from Montreal, Canada.
"Gorgeous color, very well made and beautiful packaging. Such a nice, clean and well designed product.", Alex from Harmiston, OR.
Given the ongoing release of new personal communication devices, many consumers and corporate buyers sometimes forget the quality and value of handcrafted products. Younger generations are both discovering and appreciating this handmade craftsmanship. Gabi instills bookbinding art and beauty into each handmade iPad case, iPad mini case, Kindle Fire HD case, Nexus7 case, and hand-sewn iPhone sleeves.
Gabi and his design team are also working on the design of new iPhone5 case. iDreamCase has been already selling sleeves for iPhone 5. However this case will be a new family member to iDreamCase collection. The company is looking to release the iPhone5 case in Spring 2013.
About iDreamCase
iDreamCase handcrafts superior quality, truly handmade products using only the finest materials. Guided by our strong commitment to handmade artisanship, iDreamCase designs and creates luxuriously protective handmade iPad cases, iPad mini cases, Nexus7 cases, Kindle Fire HD cases and sleeves and iPhone 4/4S/5 sleeves. Made from elegant fabrics imported from Italy and exclusive black genuine leather, iDreamCase products offer a superior design aesthetic, provide sophisticated style and protection, and reflect centuries-old, unmatched handmade craftsmanship. Master bookbinder Gabi Hanoun artfully weaves over 30 years experience into each handmade tablet case and sleeve and smart phone sleeve, truly revolutionary products in handcrafted artistry. More information, http://idreamcase.com
Contact:
iDreamCase
support(at)idreamcase(dot)com