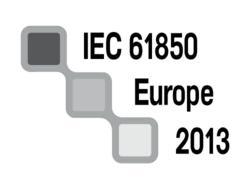 This focused conference brings many experts on IEC 61850 together and in particular many end users report about their experience with IEC 61850. I am really looking forward to learning about these experiences from all over Europe.
Prague, Czech Republic (PRWEB UK) 11 March 2013
A survey of 153 smart grid professionals across Europe, conducted by Phoenix Forums, reveals that 85% of respondents consider the implementation of IEC 61850 to be either 'very important' or 'important' to their organisational agenda. And whilst multi-vendor interoperability was considered the single most important benefit of embracing IEC 61850, it was also considered by far the biggest hurdle to achieving its effective implementation.
"It is clear that European utilities more than recognise the far-ranging potential benefits of IEC 61850, but the reality of capitalising upon these benefits is proving no easy task. With challenges around multi-vendor interoperability, backward compatibility, managing the transition to Ethernet, and a lack of workforce skills to meet the new demands, implementation of this complex standard is not without its obstacles" says Rebecca Davison, Programme Director at Phoenix Forums, producers of IEC 61850 Europe 2013. "However, with significant investment already committed, and development of the protocol on-going within the key working groups, IEC 61850 is here to stay and the pressure for its implementation has never been more intense. Now is very much the time to overcome the challenges and put implementation strategies into action."
IEC 61850 Europe 2013 takes place 22-24 May 2013 in Prague. This one of a kind event is the only European conference, exhibition and networking forum to provide real-life, practical examples of IEC 61850 implementation within TSO and DSO environments. Over the two days of the main conference, 16 leading European utilities including National Grid, Enel, UK Power Networks, RTE, Red Eléctrica, Alliander, Elia, Elering and DONG Energy amongst others, will present practical case studies demonstrating their experiences of actual IEC 61850 implementations.
Panel debates designed to open up dialogue between all the key stakeholders and ensure that future development of the IEC 61850 standard addresses user needs will feature presentations not only from the leading utilities, but also from tech leaders and industry experts including Siemens, Schneider Electric, Alstom Grid, DNV KEMA, it4Power and PAC World Magazine. An evening champagne roundtable session will provide a practical framework for real-life problem solving and brainstorming with the entire IEC 61850 community. All of this will be complemented by an adjoining exhibition area where delegates can view state of the art IEC 61850 products and solutions. As an additional benefit, a dedicated hands-on pre-conference workshop on The Fundamentals of IEC 61850, will take place on 22 May, providing a comprehensive overview of the protocol and its critical features and requirements. The workshop leader, Christoph Brunner, Convenor of IEC TC 57 WG 10, will explain the building blocks of IEC 61850 in an interactive learning environment designed to get attendees fully up to speed on all of the key complexities and latest developments.
"We believe we have created a truly unique event for the IEC 61850 community. It is clear that everyone has heard the theory, but now is the time to start sharing the practical experiences of real-life implementation in the utility environment. This is the perfect benchmarking, buying and networking forum for anyone involved in implementing IEC 61850 and making the smart grid concept a practical reality. No matter what your implementation approach, whether piecemeal or whole systems, we have practical examples that will be relevant to you and your company, and will put you firmly on the path to leveraging the full benefits of IEC 61850," says Rebecca Davison.
Christoph Brunner, President of it4power and Convenor of IEC TC 57 WG 10, will give the opening address at the conference. Mr Brunner commented, "With IEC 61850 already being deployed in several thousands of substations around the world, the interest in IEC 61850 is still growing. Recently, some concerns have been raised around whether IEC 61850 is really realising the benefits it promises. This focused conference brings many experts on IEC 61850 together and in particular many end users report about their experience with IEC 61850. I am really looking forward to learning about these experiences from all over Europe."
Grégory Huon, Substation Replacement Projects Team Leader at Elia and ENTSO-E Task Force Leader on the IEC 61850 standard, who will be sharing his practical experiences of implementation as a speaker at the conference comments: "This event is a great opportunity for all IEC 61850 stakeholders to meet and get a better understanding of their respective requirements in order to reach an efficient – not only effective – interoperability between vendors' products. No doubt that the debates will be very interesting and constructive in order to ensure the success of IEC 61850, by making sure the standard – and the technologies developed around it – remain sustainable and provide significant benefits for all stakeholders and the community. Last but not least, the IEC 61850 Europe 2013 conference is also "the place to be" to enrich your knowledge on the IEC 61850 standard thanks to the presence of worldwide well known experts in the domain."
Topics that will be discussed include:

Achieving Multi-vendor Interoperability – managing the complexities of multiple vendors' devices and tools and developing open vendor-neutral configuration tools to achieve seamless engineering
Implementing IEC 61850 in Legacy Substations – adapting implementation to manage the lifecycle challenges and backward compatibility aspects of substation replacement, refurbishment, and expansion
Ensuring Robust Testing and Maintenance – modifying existing testing strategies and preparing appropriate documentation to mitigate failures, and identify and correct faults in the absence of wires to track
Driving Workforce Skill and Knowledge Development – identifying and cultivating the new engineering skills required to understand the complexities and meet the demands of IEC 61850, and capitalise on the full benefits
Enhancing Communication and Data Transfer – effectively transitioning from hardwiring to Ethernet and overcoming the challenges around GOOSE messaging when performing time-critical functions
Cyber and Physical Security – mitigating the heightened cyber and physical security risks when implementing IEC 61850
Applying IEC 61850 in New Domains – reviewing implementation in distributed energy, hydro, wind and solar power plants
Speaker highlights include:

John Fitch, Protection and Control Technical Leader, Asset Management Directorate – National Grid (UK)
Grégory Huon, Expert Manager Secondary Systems – Elia & Leader of the IEC 61850 Taskforce – ENTSO-E (Belgium)
Carlos Rodríguez del Castillo, Technical Project Manager for IEC 61850 Substation Automation System R&D Projects – Red Eléctrica de España (Spain)
Hans-Jørgen Stahl, Senior Engineer – Renewables SCADA – DONG Energy (Denmark)
Julio E. Dominguez, Power System Automation Expert – Gas Natural Fenosa & Member of the Technical Committee – E3 Group on IEC 61850 (Spain)
Patrick Lhuillier, Senior Engineer and R&D Expert – RTE (France)
Tim Manandhar, Low Carbon Solutions Design Manager, Technical Lead – The Flexible Plug and Play – UK Power Networks (UK)
Johan Rambi, Alliance Manager Privacy & Security - Alliander (Netherlands)
Alberto Cerretti, Roberto Calone, & Pietro Tumino, Engineers – Enel (Italy)
Han Lauw, Senior Consultant – Joulz (Netherlands)
Ruud Palings, Project Manager & Senior Systems Engineer - Substation Automation – Joulz (Netherlands)
Vladan Cvejić, Substation Control System Unit Manager – Elektromreža Srbije Serbian TSO (Serbia)
András Woynárovich, Relay Protection Advisor – MAVIR Hungarian Independent Transmission Operator Company (Hungary)
Claude Racine, Head of Station Automation – Axpo Power (Switzerland)
Amadou Louh & Ekaterina Makhu, Specialists Asset Management – Stedin (Netherlands)
Igor Mets, Specialist, Substation RTU Systems – Elering (Estonia)
Thibaut Gazet & Aurélie Dehouck, Research Engineers – EDF – R&D (France)
Event dates and location:
Conference: 22-24 May 2013
Location: NH Hotel Prague, Czech Republic
Event website: http://www.iec61850-europe.com
For more information, interviews and media accreditation:
Rebecca Davison, Programme Director, Phoenix Forums Ltd
Email: Rebecca(at)phoenix-forums(dot)com
Tel: +44 (0)20 8371 1554
Fax: +44 (0)20 8371 9442
Phoenix Forums is an independent conference producer specialised in the Energy and Environment sectors. We work hand in hand with engineering professionals to create innovative event concepts and high quality programmes that inform technical decision makers and enable them to deliver exceptional results. Our approach is entirely market led. We stay exceptionally close to industry developments. Through our regular, rigorous and unbiased process of depth interviews with key utilities, power producers, regulators, investors and solution providers we stay one step ahead of industry developments and provide live event platforms that act as a catalyst for new ideas, new directions, and new approaches to achieving future energy security.
Mandana White
Phoenix Forums Ltd
Central House
1 Ballards Lane
London, N3 1LQ
United Kingdom
Tel: +44 (0)20 8349 8097