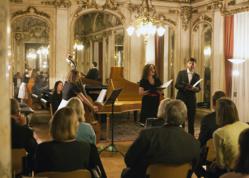 Our volunteer choir agreed to raise money for Breezy Point, a community on the Rockaway Peninsula in Queens, NY, that faces particularly terrible devastation
Chicago, IL (PRWEB) December 06, 2012
The IES Vienna Center Music Program is staging a student concert on December 7 to benefit Breezy Point, NY, residents suffering the after effects of Hurricane Sandy. The music students from the U.S. wanted to help the Breezy Point community from afar as they study abroad with IES Abroad, a consortium of 200 major U.S. colleges and universities,
The benefit concert, featuring choral and chamber works, will be live-streamed internationally Friday, December 7, 11:30 EST at http://www.ustream.tv/channel/hurricane-sandy-benefit-concert.
The performance features 16 study abroad students in the IES Abroad Music Program in Vienna. Organized by student assistant and composer Christopher LaRosa, a graduate of Ithaca College as well as the IES Abroad Vienna Music program, the concert is part of an IES Abroad Music Triple Header. The IES Abroad Choir and chamber musicians will be performing at Palais Corbelli where the concert is open to the public. For more information on the event – http://www.chrislarosa.com/
The program will include choral and chamber works by Anton Bruckner, Christopher LaRosa, Brad Printz, and Jonathan Quick, as well as several traditional Christmas carols. To see a student video preview click here.
The concert benefits the Breezy Point Disaster Relief Fund with a free will offering. For more information on the relief fund and to make a donation - http://breezypointdisasterrelief.org/
"When I, along with other students at IES Abroad Vienna, read about the destruction caused by Hurricane Sandy we felt powerless to help those people impacted by the disaster. So, we decided to create an opportunity that would make a difference. With our Center's strong music program and beautiful concert hall, a benefit concert was ideal. Our volunteer choir agreed to raise money for Breezy Point, a community on the Rockaway Peninsula in Queens, NY, that faces particularly terrible devastation. We are honored to support this community in its time of need," said Christopher LaRosa.
About IES Abroad
IES Abroad is a global, not-for-profit academic consortium of more than 200 top-tier American colleges and universities that has been a leader in study abroad programs for over 60 years. IES Abroad offers 100+ study abroad programs in 36 cities worldwide. More than 5,700 students enroll in IES Abroad programs each year.
Every day our staff sees how studying abroad changes students' lives. As an educational organization that puts purpose before profit, we're proud of our legacy and leadership in the study abroad field. We believe that every student should have the opportunity to go abroad—especially in a fun, safe, and superior academic and cultural environment. For more information, please visit http://www.IESAbroad.org