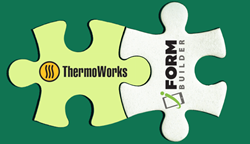 The best way to prevent [foodborne] illnesses is through accurate, real-time temperature monitoring at multiple points in the food production and preparation processes.
HERNDON, Va. (PRWEB) July 19, 2018
Zerion Software announced today, that its signature platform, iFormBuilder, now integrates fully with ThermoWorks thermometer hardware, allowing food service groups to monitor production and improve processes like never before.
"Foodborne illnesses are on the rise everywhere," explained Zerion CEO Sze Wong. "We read about it in the news every year, but the solution to this problem is right in front of us. The best way to prevent these illnesses is through accurate, real-time temperature monitoring at multiple points in the food production and preparation processes. Traditional methods of doing this have fallen short, which is why along with our partner, ThermoWorks, we're excited to provide access to a better way."
Global food organizations including international airline caterers and fast food chains are already pioneering this new solution and seeing remarkable results. They are quickly and easily collecting critical temperature readings at multiple points in the food preparation process—storage, thawing, heating, serving, and more, with automated reporting processes to identify and prevent trouble before it arises. They can now have confidence in the safety of all processes while increasing final product consistency as a side benefit.
The tools available through ThermoWorks can be used to gather temperature readings that can be automatically populated into iFormBuilder forms. Current devices that are available for integration include:
ThermaPen Blue: https://www.thermoworks.com/Thermapen-Blue
BlueTherm One: https://www.thermoworks.com/BlueTherm-One-Meter-Probe-Kit
Designed primarily for the food service industry, these devices have wide-reaching potential that reach beyond food preparation. Other industrial users that can now capture critical temperatures in Fahrenheit or Celsius include:
Food Service groups, who can easily monitor surface and internal temperatures of their products for food safety and compliance.
Manufacturing groups, who can collect accurate readings throughout the production process.
Healthcare facilities, that can now track the temperatures of blood, vaccines, and more.
Temperature moderation, control, and tracking are essential for many modern practices. Zerion is excited to facilitate better processes food food service groups and beyond, through this ground-breaking integration.
To learn more, visit: https://www.zerionsoftware.com/integrations/thermoworks/
About Zerion
For over 10 years, Zerion Software has believed that there has to be a better way. Zerion builds products that enable customers to consistently improve how they use and interact with their data. Zerion knows that good data drives better decision-making, which allows our clients to focus on what matters most, and in the process save time, money, resources, and lives. Zerion is committed to building the world's most flexible, and scalable enterprise software platform that offers end-to-end inspection, survey, and audit solutions to help drive safety, compliance, and better decision-making throughout organizations.
About ThermoWorks
Located just south of Salt Lake City, Utah, ThermoWorks is passionate about temperature. Because temperature is a widely measured physical parameter that affects the quality of daily life, ThermoWorks believes that great thermometers can make life better. The company is dedicated to creating cost-friendly, durable, dependable thermometers and making themselves available to customers at any time. To learn more, visit: https://www.thermoworks.com/.