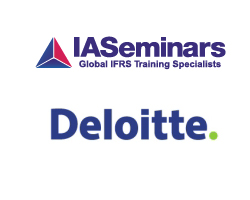 Lagos and London, March 2013 (PRWEB) March 20, 2013
IASeminars Ltd. (a UK-based company specializing in international accounting seminars around the world) and Akintola Williams Deloitte (the largest professional services firm in Nigeria, and part of Deloitte's West and Central Africa cluster) are pleased to announce their collaboration in training courses on International Financial Reporting Standards (IFRS).
"IASeminars is proud to be working with Deloitte to service the IFRS training needs of Nigeria and of the wider African market" said Marc Gardiner, CEO of IASeminars. "Having provided IFRS and other financial training over the last 10 years to many clients in Europe and North America, we look forward to being of service to an African clientele".
"We are pleased to be working with IASeminars to provide a comprehensive range of IFRS training solutions," said Oduware Uwadiae, Partner - IFRS Services, Deloitte West & Central Africa. "Deloitte's technical IFRS knowledge added to the IASeminars international training expertise represents a premium IFRS education opportunity for the West African market."
Under this arrangement, a wide range of IFRS courses have been scheduled in a number of African locations, as well as abroad and also online. Topics available include IFRS Immersion, US GAAP to IFRS comparison, IFRS Updates, and industry-specific courses such as Oil and Gas, Financial Services, and Public Sector Accounting (IPSAS).
About IASeminars
IASeminars has established itself over 10 years as a leading global provider of international accounting seminars. The company offers several hundred public courses each year on six continents, which attract thousands of senior international participants who are taught by a premier faculty of instructors.
About Deloitte Nigeria
Akintola Williams Deloitte is part of Deloitte's West and Central Africa cluster, which is a member firm of Deloitte Touche Tohmatsu, an organization of member firms devoted to excellence in providing professional services. We are focused on client service through a global strategy executed locally in over 150 countries. With access to intellectual capital of 200,000 people worldwide, our member firms deliver services in four professional areas: Audit, Tax, Consulting, and Financial Advisory services. Our member firms serve more than one-half of the world largest companies, as well as large national enterprises, public institutions, locally important clients, and successful, fast growing companies.