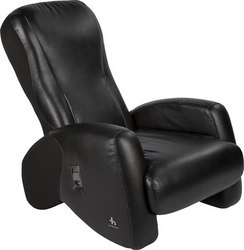 Long Beach, CA (PRWEB) February 23, 2010
Human Touch®, the U.S. market leader of innovative massage chairs, Perfect Chair® Recliners, and other wellness solutions, is proud to showcase its iJoy® Massage Chairs on The Real World D.C., airing Wednesdays at 10/9 CST on MTV. The addition of Human Touch® Massage Chairs to The Real World D.C. house represents the type of innovative, design-forward and unique home environments that are portrayed on The Real World.
Featuring a modern, youthful design and proprietary, award-winning Robotic Massage® Technology, the iJoy® Robotic Massage® chairs offer The Real World D.C. cast members a much-needed therapeutic massage to help them escape everyday life in this often chaotic house, with the option of three 15-minute wellness programs and multiple options for customizing the perfect massage.
"We are very excited to see one of our most popular massage chair lines showcased on this national television show as a representation of what today's most stylish and innovative living spaces offer," said Andrew Corkill, Director of Product Management for Human Touch, LLC. "We know the show's producers had many choices in creating the ideal living environment for The Real World D.C., and so we're extremely proud that our iJoy massage chairs were included in the home."
About Human Touch®:
In pushing the boundaries of its traditional massage chairs and wellness products through advanced proprietary technology and innovation, Human Touch® is focused on infusing health and wellness into everyday lives through high-quality, design-oriented and award-winning massage chairs, Zero-Gravity Perfect Chair® Recliners and other wellness products and solutions. Human Touch® has been making people feel better™ for more than 30 years by developing state-of-the-art massage and wellness products, as well as by providing valuable consumer education about the substantial health and wellness benefits of regular massage therapy, relaxation and proper posture. Stress relief, increased range of motion, pain relief, improved circulation and increased immunity are just some of the valuable health benefits associated with regular massage therapy. Human Touch products are available at back care specialty stores, fine furniture stores across the country, through international retailers and distributors in more than 40 countries, as well as online at http://www.humantouch.com.
###