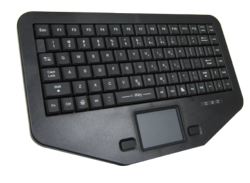 The SWB-86-TP combines the convenience of a compact keyboard sealed to IP65 standards with full-travel key caps.
Austin, Texas (PRWEB) November 15, 2012
iKey®, the world leader in premium input devices, is pleased to announce the latest release in its ultra-compact line of full-travel keyboards. The SWB-86-TP keyboard offers users a ruggedized keyboard with a small footprint suited for high data-entry.
This latest addition to the WaterBoard™ line has the tactile feel of a standard desktop keyboard, while maintaining the rugged durability of all iKey products. With red LED backlit keys and laser etched legend, the SWB-86-TP is well suited for low light environments. Featuring an integrated touchpad, this easy to install unit has a USB interface and is completely plug-and-play with no additional drivers needed.
The SWB-86-TP is ideal for in-vehicle applications. It can easily be integrated into a three-piece mobile computing solution with iKey's new line of rugged, daylight-readable, touchscreen displays, including the 12.1-inch IK-FPMT-12-1000. Like all of iKey's products, the SWB-86-TP is fully sealed to NEMA 4X specifications, making it resistant to accidental spills, easy to clean, and impermeable to corrosives.
"Many of our public safety customers require a rugged keyboard but don't want to sacrifice typing speed or accuracy" Dave Huddleston, iKey Operations Manager, said. "The SWB-86-TP was engineered to address these needs, combining the convenience of a compact keyboard sealed to IP65 standards with full-travel key caps."
Additional information outlining the features and benefits of the SWB-86-TP can also be viewed on the iKey website at http://www.ikey.com or on iKey's YouTube Channel.
About iKey, Ltd.: iKey designs and manufactures rugged, sealed keyboards, displays, pointing devices for industrial, public safety, medical and military applications. A pioneer in its industry since 1989, iKey is known as an innovator of industrial computer peripherals. For more information, visit http://www.ikey.com.